What Are The Annual Costs Of Operating An Electric Bike?
The average annual operating cost of a car in the UK has now reached an eye watering £3,556. Combine current fuel prices with the cost of an annual MOT, road tax, parking permits, insurance and repairs; suddenly the cost of running a car becomes a significant financial burden. Whilst an electric bike has a higher initial upfront cost than a normal bike, the assistance provided by the motor allows you to travel further, for longer, and with additional cargo, making them a functioning alternative to the car, the tube or the train.
We have broken down the annual running costs of the Riese & Müller Tinker2 into four sections; insurance, servicing, charging and miscellaneous costs for those small but essential extra few items. Retailing at £4,349 the Tinker2 is a cute and compact urban bike; perfect for urban commuting or general city living, but how can it save me money you may ask? Well, once you've paid off the initial cost of the electric bike, either outright, over 12 months through 0.0% finance or the Cycle to Work scheme, the annual operating costs of an electric bike are significantly less than running a car, or even using the tube.
Here are the four costs you only have to think about annually:
Bike Insurance
We've partnered with dedicated bike insurance company Laka to help keep you on the road if the worst was to happen. Even better, your first month of insurance is free with our dedicated Fully Charged discount code. With Laka, you would usually pay £30 a month to insure a Riese & Müller Tinker2, but never more than £39. Over a year, you could save over £150 from insuring an eBike vs a car. Laka is also a no-claims insurance company, so even if you do fall victim to foul-play, you can be sure your premium won't increase.
Servicing
So to stay fully charged from January to December, we recommend getting your eBike serviced once a year. A silver standard service at Fully Charged includes a comprehensive check of your eBike's wheels, fork, bearings and headset. It's especially important to take extra care of your eBike during the winter, so make sure to book in a service while the cold months hit.
Charging costs
The cost of charging an eBike is much lower than you imagine. The Tinker2 has a 545Wh battery and comes with a 4A charger that takes approximately 4 hours for a full charge. With the current cost of electricity averaging at 34p per KwH this winter, a full charge, that is from 0 miles right up to 75 miles of charge, the Tinker2 costs just 0.74p. If you fully charge the eBike 3 times over two weeks, it works out at a miniscule £2.22 a fortnight – a cost that wouldn't even cover a single peak ticket from Zones 3 to 1. So for 2p a mile, you can escape the tube and feel happier for it.
Miscellaneous Costs
There are of course a few things that you have to buy every year that don't come under the categories of eBike insurance, servicing or charging. Whilst you can save on the cost of chain lubricant thanks to the Tinker2's Gates Carbon Belt Drive, the odd puncture is harder to avoid, so items such as inner tubes are inevitable. A total of 2 Continental inner tubes from declaration would set you back £14.98.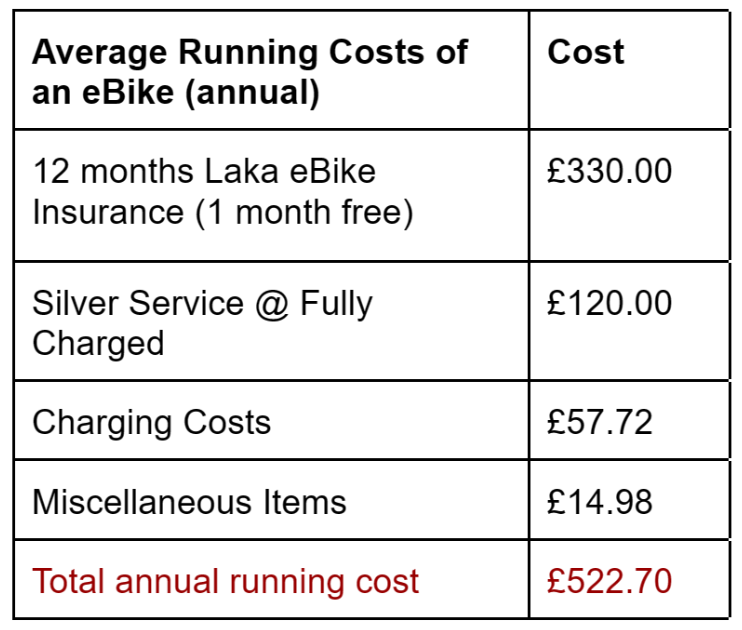 Whilst total running costs will vary from year to year depending on parts, the average cost of keeping a car on the road in the UK is 580% more than an eBike! Amazingly, the £57.72 that it costs to charge the Tinker2 a year wouldn't even cover a full tank of fuel for a VW Polo. The annual running costs of owning a premium electric bike in London are significantly less than using the tube as a primary means of transport for a year. It costs £1,496 a year to commute 5 days a week using the tube between Zones 3 and 1. Even if you only go into the office 4 days a week, your total annual spend on the tube would come in at £1126.4 - double the cost of running an electric bike!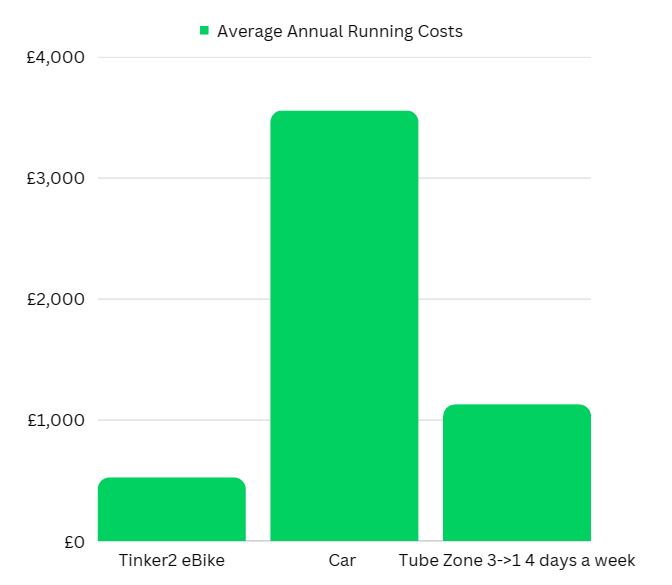 Data source: Average Cost to Run a Car UK 2023 | NimbleFins