A History of Fully Charged Electric Bikes
Fully Charged Vintage Legacy Page
To celebrate Fully Charged's ninth birthday, we thought we'd take a look back through the archives into some electric bike golden oldies.
It's remarkable to think in our nine years of retailing some of the most innovative electric bike technology to grace our shores, just the swathing amount of products inventors and manufacturers alike have produced to try and tap into this burgeoning market. Some of these we very much miss, and others we can't quite believe we actually stocked!
However, one thing is certain, is the lengths we have tried to go as a business to curate what we believe now to be our A-List line up of the world's best electric bikes. This really is vintage Fully Charged, and so coming into our tenth year we thought it would only be right for us to look back at 10 whacky and sometimes absurd electric bikes that have made us what we are today… enjoy!
Electric Bikes
1. The M55 Terminus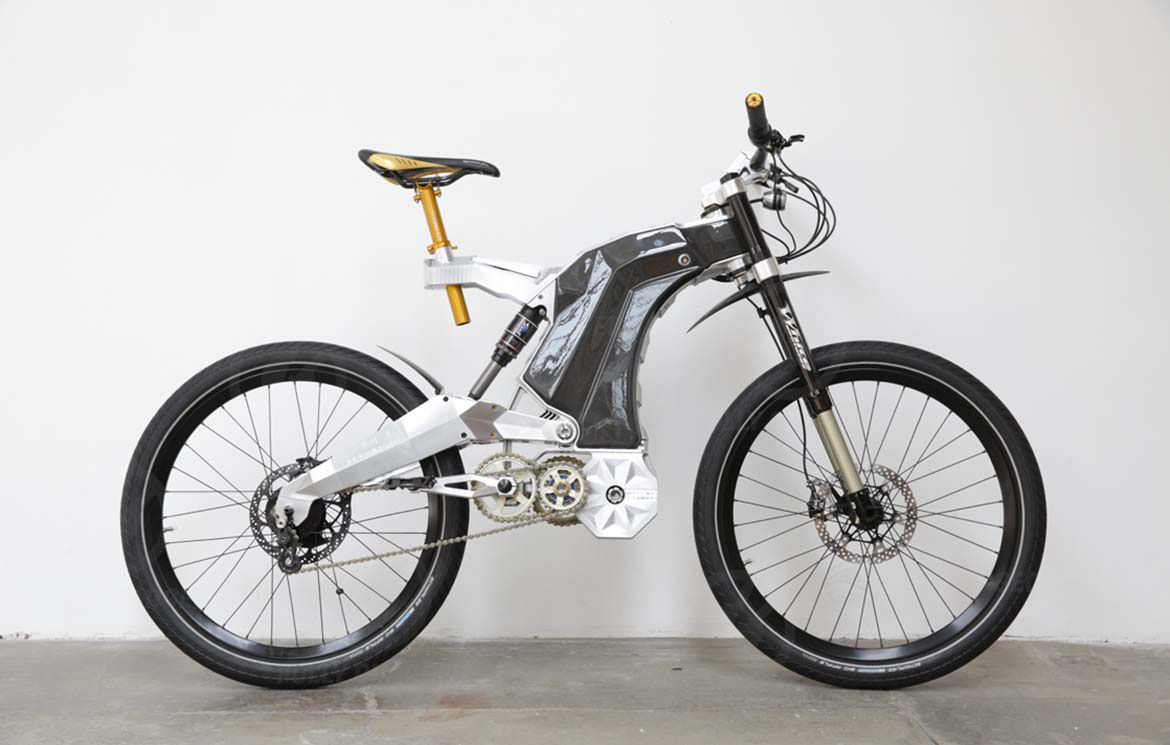 With it being at risk of sounding like a new modern world global virus, or a back-to-the-future dystopian blockbuster, the M55 Terminus was indeed quite the specimen of an electric bike. More radical was its price point, a quite outstanding £28,000.00 owing to its titanium and carbon fibre frame, hydraulic disc brakes, a suspension system with 8 millimetres of travel and a 14-speed Rohloff Speedhub and Gates Carbon Belt Drive system for a smooth and efficient pedalling.
Hungarian company M55 first introduced the product to the market in 2013 as a high-end electric bike designed for off-road use and has a rugged, futuristic design.The bike was powered by a 2,500-watt motor and could reach up to 43 miles per hour, with the battery being chargeable in 2 hours, and with a range of up to 75 miles. In closing, the M55 was a high-performance electric bike designed for off-road use and adventure. It combined cutting-edge technology with a futuristic design to create a unique and powerful ride.
2. The Mando Footloose IM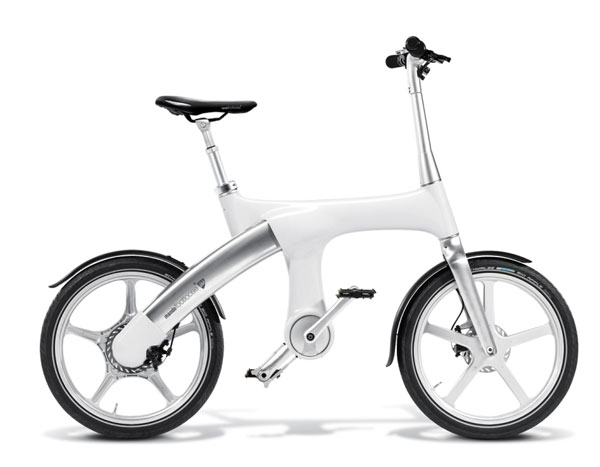 The South Korean Born Mando Footloose IM will live long in the Fully Charged memory, despite being a discontinued product. The innovative looking electric bike was named the winner of the prestigious Red Dot and Good Design Award in 2015 for its forward thinking design and features.
A breakthrough chainless Series Hybrid Technology powered the wheels with an internal 250 watt motor. What's more was that the Mando Footloose IM had no mechanical connection between the cranks and rear wheel and instead were connected by an alternator. An Electronic Control Unit monitored the bike's condition and managed the system to optimise the bike.Whilst the Mando Footloose provided one of the great names and arguably kookiest designs to grace the Fully Charged shopfloor, our customers preferred Gocycle as a compact, urban, now fully folding electric bike city option. We have never looked back with Gocycle, and continue to be its flagship dealer globally, and couldn't be prouder to see so many of our customers across the UK and globally riding these bikes!
3. The A-Bike designed by Sir Clive Sinclair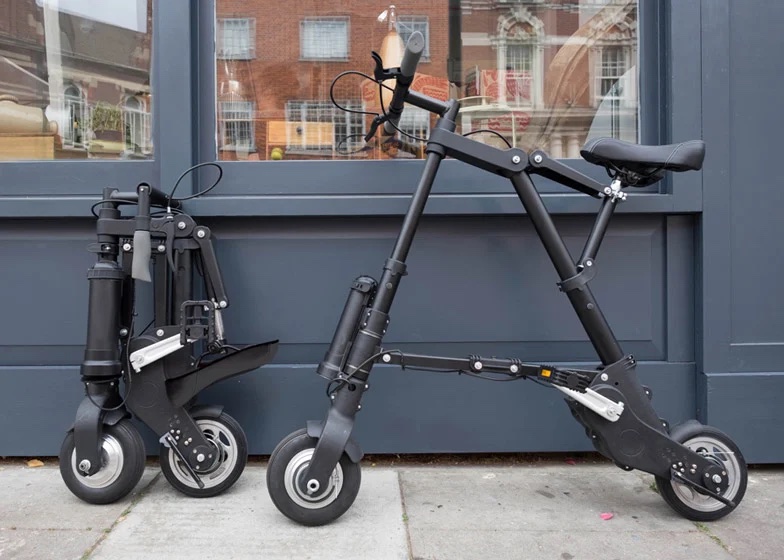 The A-bike was a lightweight, folding electric bike that was designed to be ultra-portable and easy to carry, and weighing just 5.5kg! It's small size and lightness made it ideal for commuting or travelling. With small wheels (just six inches in diameter) and a unique folding mechanism, it was easy to see how the A-bike was met with some scepticism and criticism. We don't know what has happened to Sir Clive Sinclair since, but would like to thank him for being a true British inventor and entrepreneur within the world of electric bikes and electronics.
4. The OTO Cycles R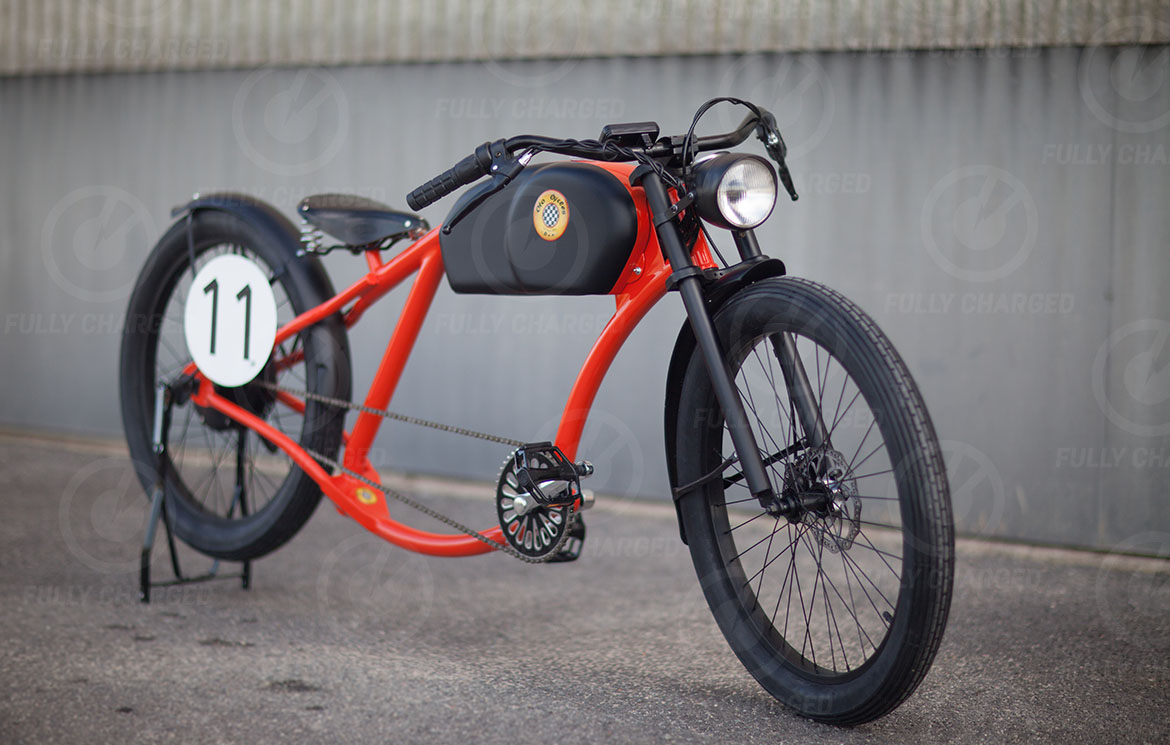 The OTO Cycles R is an electric bicycle produced by OTO Cycles, a Spanish company specialising in designing and manufacturing vintage-style electric bikes. The Cycles R, being one of the company's flagship models, was designed to evoke the classic look of a 1950's-era motorcycle, while incorporating a 250-watt electric motor that integrated into the rear hub of the bikes wheel. The battery, housed within the bikes frame, can provide 25 miles of range per charge. What we liked most about the OTO Cycles R was its retro features, including a leather saddle, retro-style handlebars and a metal front basket. Whilst we admired the OTO Cycles R, we believed that the Vintage Electric had a better use-case for our demographic in the UK, and has been a very popular option for landowners since stocking the brand in 2015. View Vintage Electric
5. Bultaco Brinco R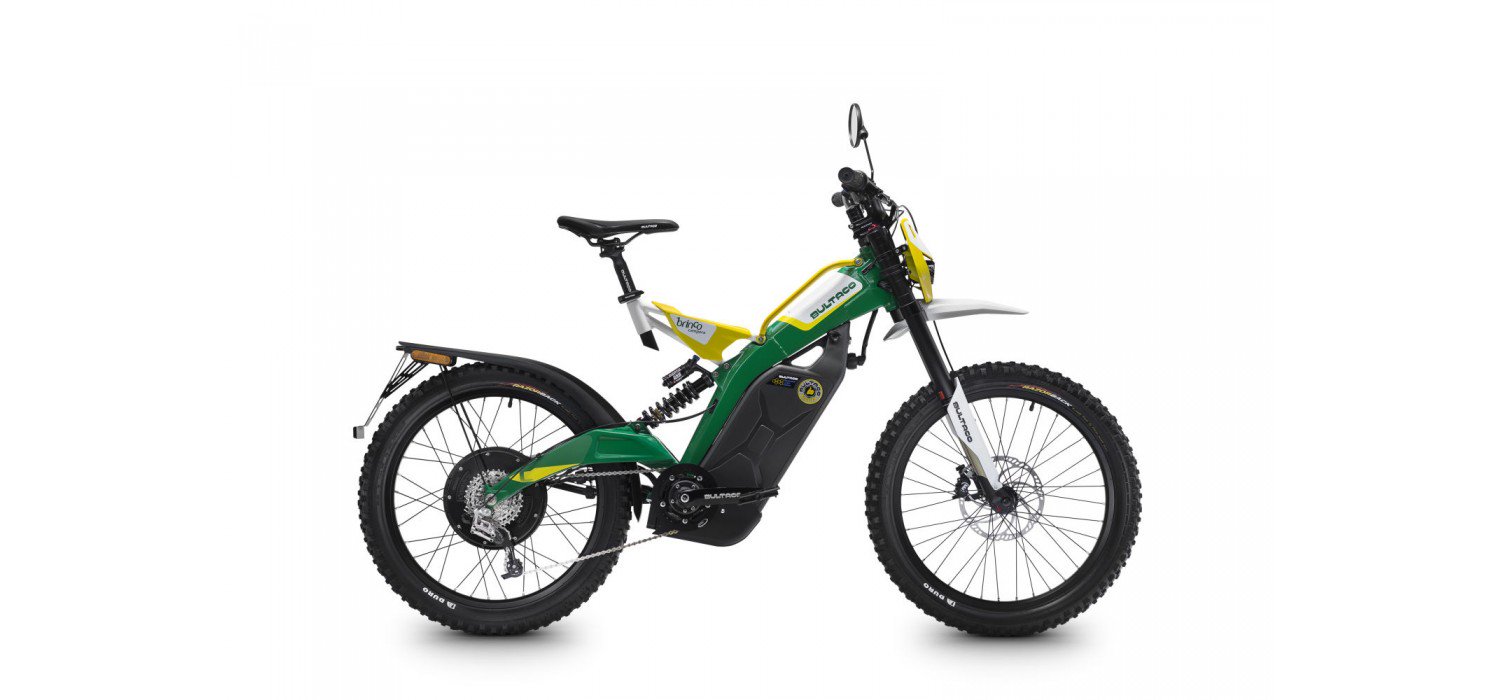 Bultaco is a Spanish manufacturer steeped in motorcycle heritage. In 1980 Bultaco began to produce its first electric bike, marketed firstly under the name Bultaco Albero. The Bultaco Albero was designed as a hybrid electric bike, full-suspension electric mountain bike, and electric dirt bike all morphed into one!And in 2015 when Bultaco was released back into the market underneath the brand 'Bultaco Motors', they released the Brinco R and Brinco S.
Even though we haven't stocked Bultaco in over three years, we still get weekly enquiries about these fast and furious products. And it's for good reason. Coming in at a top speed of just under 40mph, the Brinco R featured a powerful electric motor, full-suspension and a range of up to 40 miles. It could be used as an on-road electric bike and off-road electric bike. Unfortunately Bultaco struggled to gain real traction in a highly competitive electric motorcycle market, and couldn't quite distinguish itself as an electric bike. In 2018, the company announced that it was suspending operations due to financial difficulties. As of 2021, it appeared that Bultaco Motors is no longer active and that the future of the brand is uncertain.
6. The Stromer ST1 Electric Bike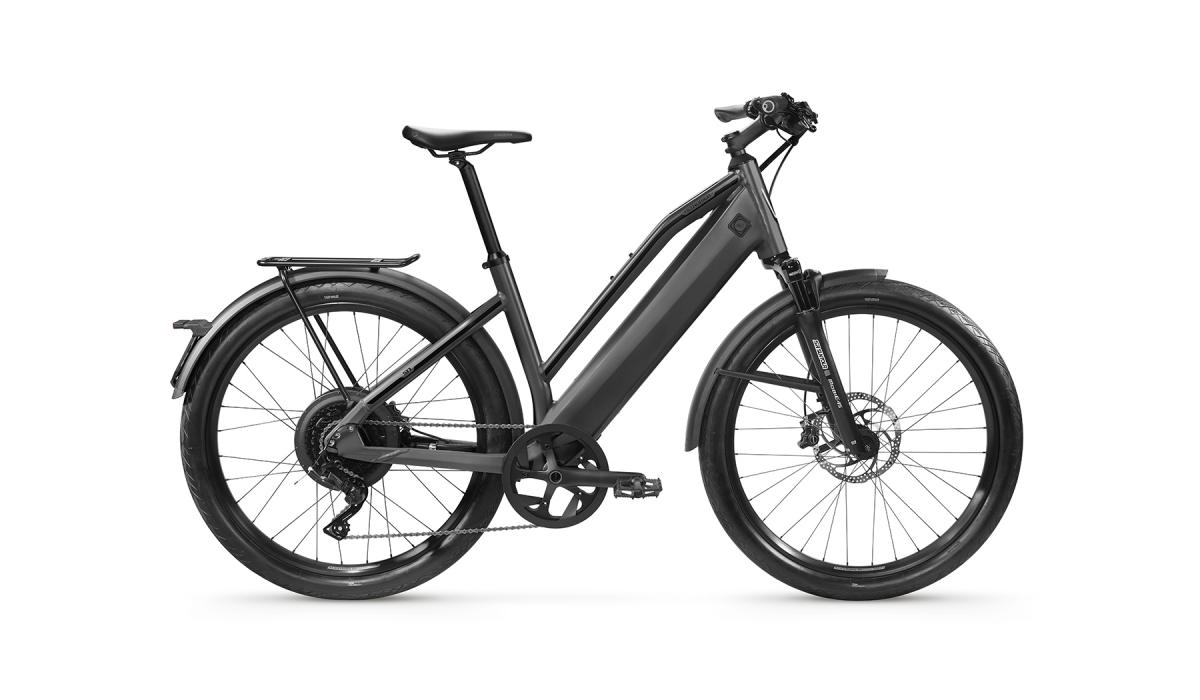 Stromer is an electric bike (e-bike) manufacturer based in Switzerland. Stromer produces high-performance eBikes that are designed for commuting and urban riding. The company's eBikes are known for their powerful motors, long battery life and sleek, modern designs.
Having said all of the above, it is the Stromer ST1 that caught our eye when we stocked the brand. It had a sleek and elegant design, creating the perfect blend of form and function for a commuter, urban electric bike. A removable 522WH battery that gave up to 50 miles of range, as well as a silent rear motor with 30nm of torque, the Stromer was built for city cruising.Whilst we no longer stock Stromer as a brand, we are over-the-moon to be working with them as the parent company behind Desiknio. Stromer acquired Desiknio in 2022, and as the world's most beautiful electric bike, we couldn't be more excited to be the brands' exclusive dealer here in the UK.
7. The Vintage Electric Cruz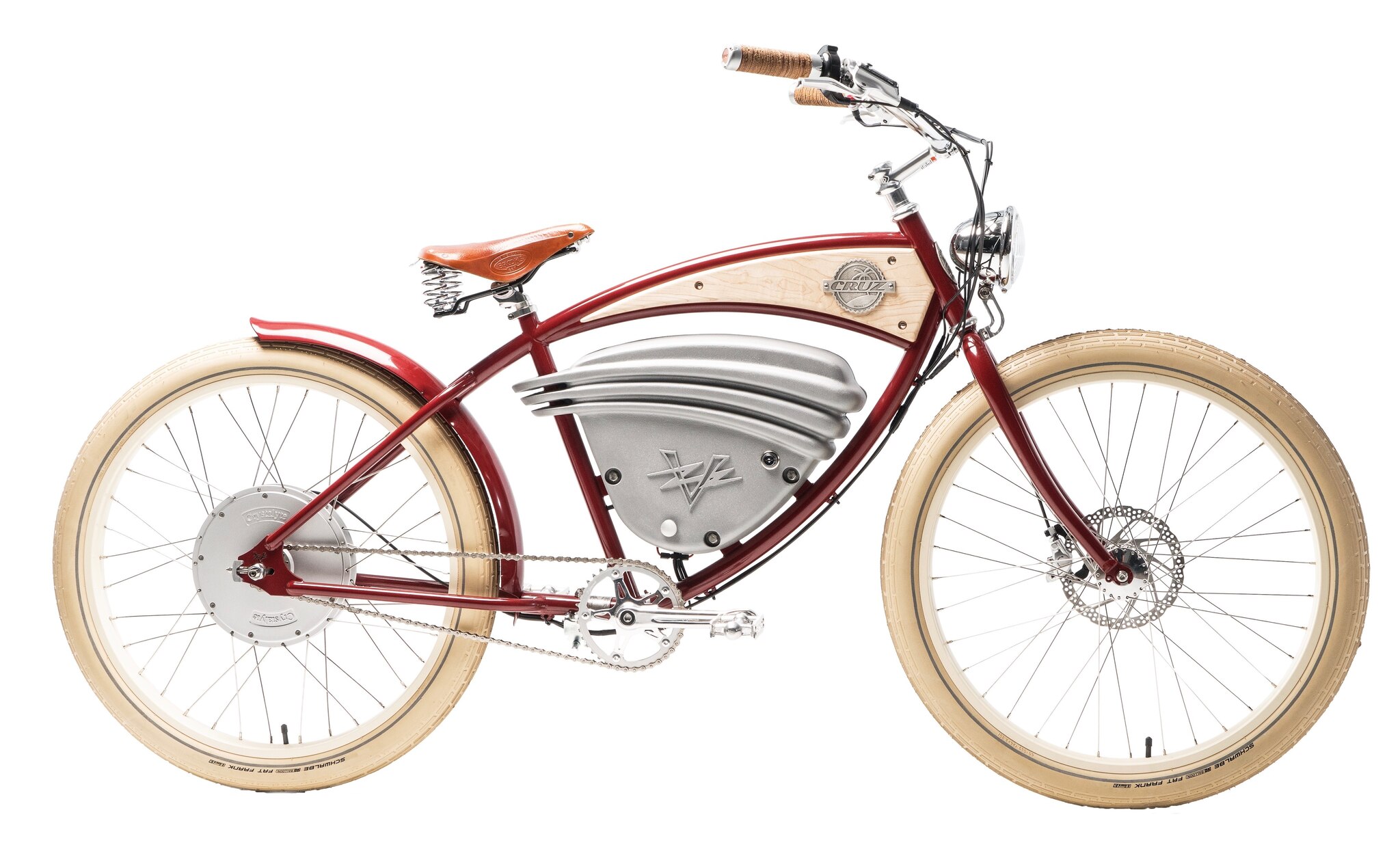 Enter a serious cool-cat, The Cruz by Vintage Electric. Now discontinued by our American friends in favour of the Scrambler (link), Roadster (link), Cafe (link) and Shelby (link), the Cruz was first introduced in 2013 by the American company, Vintage Electric. The Cruz is designed to look like a vintage motorcycle, with a classic and stylish design that harkens back to the early 20th century.A 750-watt motor could reach speeds of up to 36 miles per hour, and it had a range of up to 35 miles. All in all, this was a unique and stylish electric bike that combined vintage design with modern technology… much like its descendants, which we continue to sell today.
8. The Super73 SG1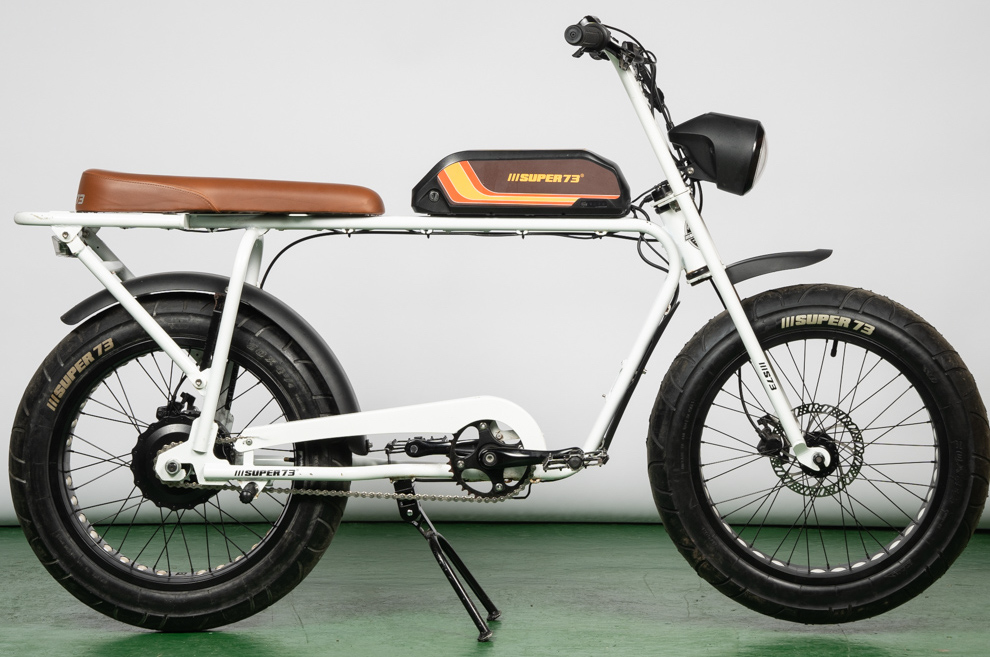 The Super 73 SG1 exploded onto the UK electric-bike scene in 2017, and whilst looking like a small motorbike, has the advantage of being a legal pedelec that can conveniently be parked anywhere a bicycle can.The Californian electric bike brand continues to be a very popular option for us at Fully Charged, with a wealth of customers from across the UK riding the Super73-ZX, Super73-S2 and the Super73-RX but this was the OG, and one we still hold very dear to our hearts. So much so that friend of Fully Charged and maverick electric-bike enthusiast Karta Healy reviewed for us back in 2019: https://www.youtube.com/watch?v=xlL56sLDcJo&t=2s
Complete with mudguards, a powerful retro headlight, rear brake light and a sturdy cargo rack, Super73's are the perfect unique commuter vehicle or weekend cruiser.
9. The Benelli Classica 26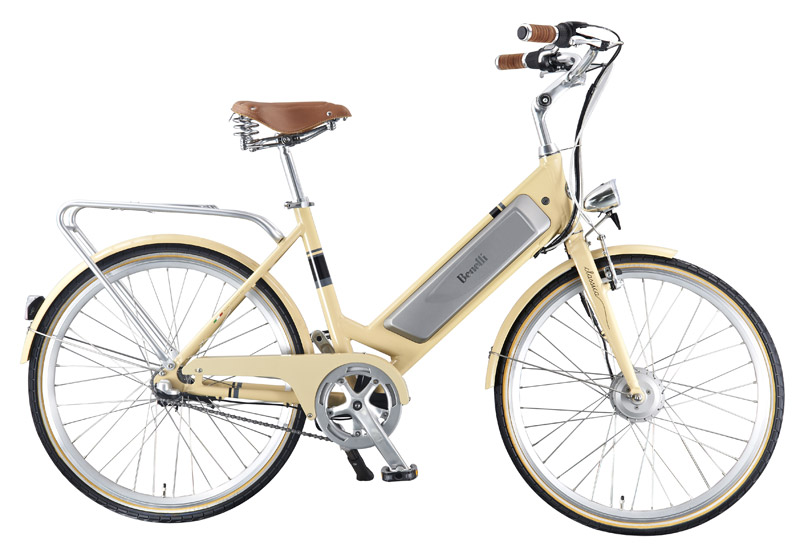 With over a century of passion for two wheels and an illustrious history of designing and building exquisite Italian motorcycles, Benelli made it's electric bicycle debut with the Benelli Classica.The Classica's gorgeous Italian design was both cosmopolitan and elegant, as you'd expect from our Italian friends. With a strong personality and city character, it become the perfect entry level electric bike. The Classica had three levels of pedal assist and a Shimano 7-speed transmission for added flexibility and ease of use. Designed for urban commuting and casual riding, this did become a Fully Charged favourite for four formidable years, but we decided to leverage the Moustache Lundi 27, as well as the Riese & Müller Nevo as our classic step-through 'traditional-modern' urban electric bikes.
10. Gocycle G3 Limited Edition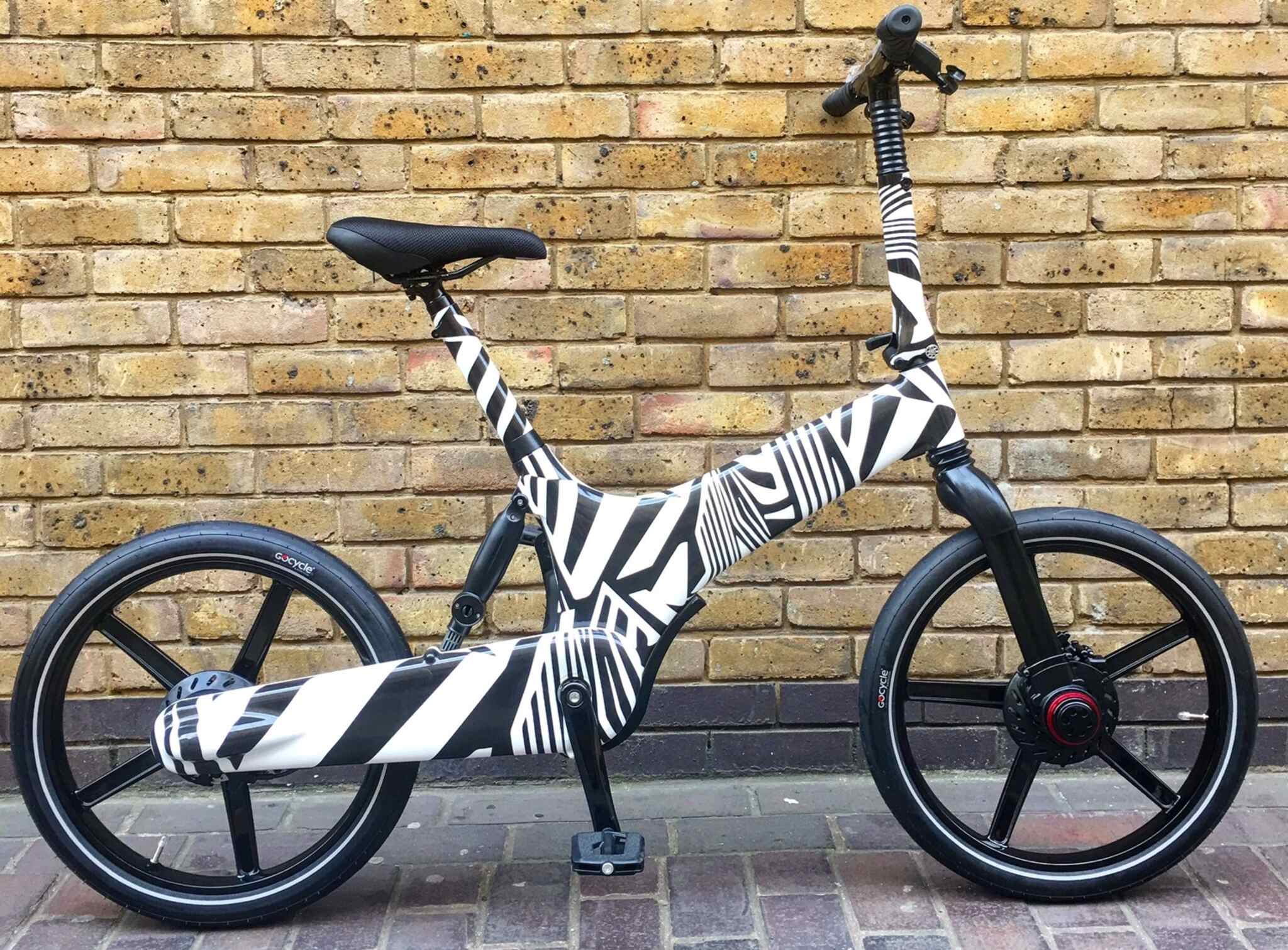 And who could honestly forget the indomitable Gocycle G3 Limited Edition electric bikes. We couldn't have been prouder to offer a bespoke vinyl-wrapping service for Gocycle. Customers could choose from a range of designs, or work with us to design their very own custom-made wrap!
And that's a wrap… for now! Whilst we still want to have that same old dynamic, impulse led buying charisma, it's safe to say that we're starting to double down on what products people want the most. But blimey, it's great to have a look down memory lane at some of these vintage Fully Charged electric bikes from years gone by.
We couldn't be more humbled as we move into our tenth year as a business to have worked with such innovators in their fields. Here's to another 10 more!