Why should I choose an eCargo bike for my family?
Cargo bikes are here for the future of family transport. Here's the reasons as to why you should purchase one for your family and our top picks.
eCargo's are playing a major role in this post coronavirus Britain, with more parents and businesses using them for their everyday journeys instead of taking to the car or public transport. So why should you buy one for your family? Here's our key benefits and top picks for you to try in store:
Ease of use
With these versatile bikes you can start stamping your authority on each and every day. eCargo's allow you to do all the usual things you can do on a bike, but its practicalities mean you can haul more luggage without being off balance, combining all the fun, excitement and health benefits of cycling with the practical uses of an SUV or van. It really is a quick and simple fix to the otherwise stressful dilemmas that cars bring. Marc Hickey, a customer who bought his bike from us only three weeks ago is already seeing the positive impact it's having on him and his family. He popped in store just this week:
'I'm over the moon with the cargo, it's easy to use, well balanced and it feels safe with the kids in it. I've dropped the kids off to school in it and then been able to go to the shops without the need to find parking or go home to then go back out again. It's already made my life a lot easier.'
Much like Marc, our customers who leave with a cargo feel like new men and women as they take to the city and beyond.
Go the distance!
An eCargo presents an easier way to travel longer distances faster, meaning you now have an opportunity to further explore on the weekends or on family holidays. With electric assistance a previously daunting hill becomes a breeze. You can add luggage hauling features, bring a picnic or other goods. Don't take our word for it but take Misty's, who bought her bike in June of 2020:
'You shouldn't live without one when you have kids in London. The whole city opens up with a cargo bike, especially with kids under five. We've gone to Forest Gate, Epping Forest, Regents Park, South Bank, the Green Way, Wanstead Park and Richmond Park in the past year, just to name a few urban spots. It has, without doubt, taken over our car and I even put our eldests' bike on the back so when he gets there he can have a little bike ride as well.'
By being both versatile and family-friendly, an eCargo will easily take your family on an adventure stress-free and kid happy!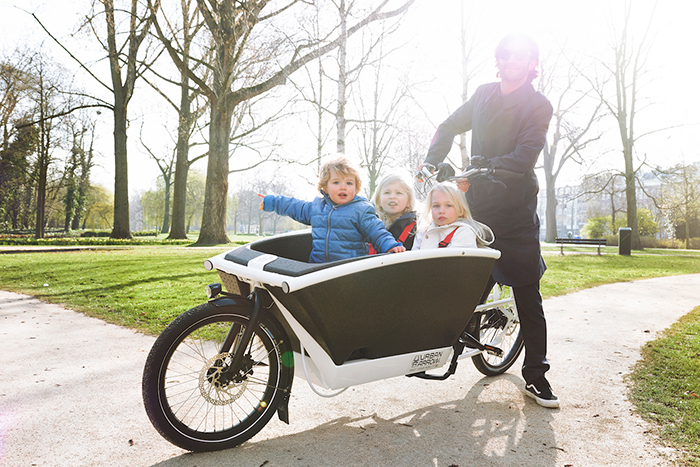 Health benefits
Not only are they practical, giving you the chance to explore the city and countryside further, but cargoes are both eco-friendly and good for your health, too. There are a number of physical, environment and logistical reasons why it's better to use an eBike than driving a car. Cars are expensive, they clog up our roads, pollute the air and you breath in more CO2 emissions inside a car than outside (need we talk about the tube?).
Our eCargo customers frequently call or drop back into the store and tell us that they feel fitter and healthier as a consequence of taking the outdoors in as opposed to being flustered and cramped in a car or permanently on the lookout for a spare seat with the kids on the tube:
'As a family we wanted to improve what we could do with our 18 month year old. It's made our lives better, without question. We can take the kid to any park we want within 10km and during lockdown it has made childcare so much easier. My wife is pregnant and due to the electric motor it allows her to cycle, and I go alongside her so that we can all go out together. I've also been to Epping Forest with the bike, it's great for tackling off-road terrain too with its front suspension and the unique Bosch system.' Christo Albor
Expense
Buying a cargo bike is an investment, but one most definitely worth having. Whilst many may think eCargo's are expensive, there are many practical ways to buy. From grants and cycle-to-work schemes, to off-setting the cost against a business, there are potentially huge savings to be made. Factor in how much you will use the bike as opposed to the car, and it really is exceptional value for money.

Our Picks for our Families!
Front-loading cargo bikes are our speciality at Fully Charged and are ideal for transporting young children around in. Thanks to clever designs and engineering, these bikes let you carry your cargo in a box or a container that sits low in the space between the handlebars and the front wheel. You can carry your kids and pets in the front and keep a watchful eye on them, and conversations tend to be easier than if you're constantly looking behind to the rear passenger seats instead of having your eyes on the road.
Here are the best front loading electric cargo bikes that are setting new standards in the industry, all of which you can test ride and buy at Fully Charged.
Riese and Muller Load 60 or 75
As modelled by Ebba in our 'This is not a car. This is a car' Youtube video above, the R&M load is an absolute pleasure to ride. It has full suspension, increasing safety by giving you more feel and traction on the road, and you can adjust the handlebar to fit the rider's height. The Bosch Performance Cargo Line Motor and double battery system is powerful and gives you exceptional range. There are also intricate touches from Riese and Muller such as an integrated wheel lock and folding lock, making it much easier and more convenient to park.
Urban Arrow Family
The Urban Arrow family puts safety first. The lowered childrens seating position makes for an overall lower centre of gravity. A sturdy and adjustable three-point belt provides safety during the ride. The expanded EPP box protects your most precious cargo and the light frame, electric pedal assistance and stepless gear shifting guarantees a very pleasant riding experience. There is an optional extra front bench, rain cover or a Maxi-Cosi adapter you can tune your bike to match your family's needs. You can choose an Active Plus, Performance or Cargo Line Motor with a 400Wh or 500Wh battery for miles of range. Enviolo's TR and CA gearhubs provide effortless shifting.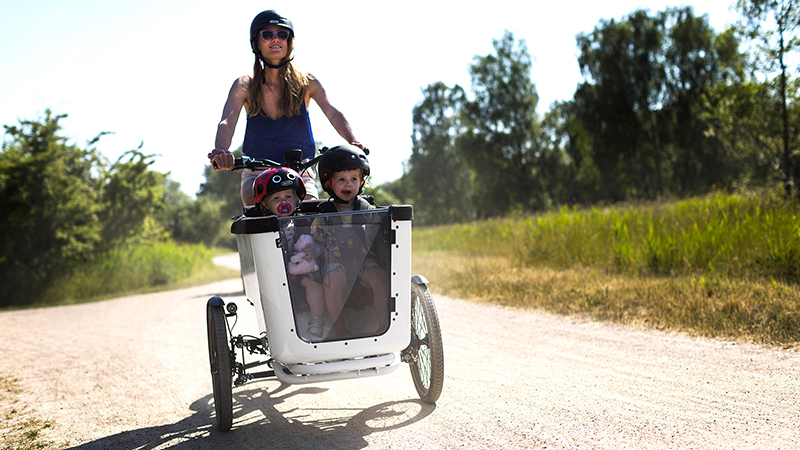 Butchers and Bicycles MK1E Vario
For parents transporting kids, the MK1-E offers you a blend of space, comfort and performance. The front box has a clever adaptable system, so you can change the box interior without using tools. The MK1-E can hold up to 180kg of weight, so whether it's 4 kids, groceries or cargo, this bike is made to meet your changing needs. Butchers and Bicycles have patented a tilt mechanism which separates this cargo bike from the rest. The undeniably good technology has a self centering mechanism ensuring balance and poise that makes gliding through the streets fun, intuitive and safer than a traditional trike cargo bike. No kid lifting is required as a useful door is housed at the front of the bike, making it easy for kids to step in and step out. There is also a lockable storage compartment located just in front of the handlebars. Powered by the unrivaled Bosch Performance CX system, this bike makes light work of heavy cargo and will glide you to your destination quickly and safely.
Come down for a test ride!
If you are confident at pedalling yourself around, in all likelihood you will take to riding a cargo bike with ease. The same rules and regulations apply as a regular bike (you don't need insurance or a license) and you can take them on the same routes you would any other day to day bicycle. Cycling with passengers can be a daunting prospect, especially if they are your loved ones. But with practice and training, an eCargo bike is a great way to move around. And that is why we offer test rides for families and business owners alike who wish to try out this revolutionary mode of transport.
.video-container { position: relative; padding-bottom: 56.25%; padding-top: 30px; height: 0; overflow: hidden; }.video-container iframe, .video-container object, .video-container embed { position: absolute; top: 0; left: 0; width: 100%; height: 100%; }