First experience of the Riese & Muller Tinker Vario
A user review of the Riese & Muller Tinker Vario, a compact city eBike with the Bosch electric bike system.
We love to hear feedback on the electric bikes and service we offer. This eBike review just came in from Simon Johnson - a new owner of a Riese & Muller Tinker electric bike.
How did it all start?
My commute to work was expensive and uncomfortable. I would arrive at the office in Westminster stressed. The car park cost £15+ per day as well as the tube cost. It was an hour of traffic jams, hunt-the-parking-space then cram myself onto the Jubilee line for another thirty minutes.
Although I don't always bike into work, when I do I'm happy. The sheer joy of riding, seeing more and feeling y body wake up. I now get an hour's worth of exercise every day without having to pay for the gym.
I knew about the brand Riese & Muller from my tie working in Germany. They are know for being on of the best. However, what Brough me in to Fully Charged was the Gocycle. I ride a Brompton so I presumed that a folding electric bike would allow me to tackle the steep hill I live on. After giving the Tinker a test ride I felt I'd been born on that bike. It was an entirely different ride. That day I cycled 20Km home, having never used an electric bike. I was home in fifty minutes. Even in the dark and rain I felt secure and at ease. I bought it the next day and haven't regretted my purchase.
Is the Riese & Muller Tinker for me?
If you are looking for a compact city bike that's also capable for touring and even off-road then this is the bike for you. The large tyres and suspension system gives you a smooth ride and the rear rack and solid frame provides plenty of carrying capacity.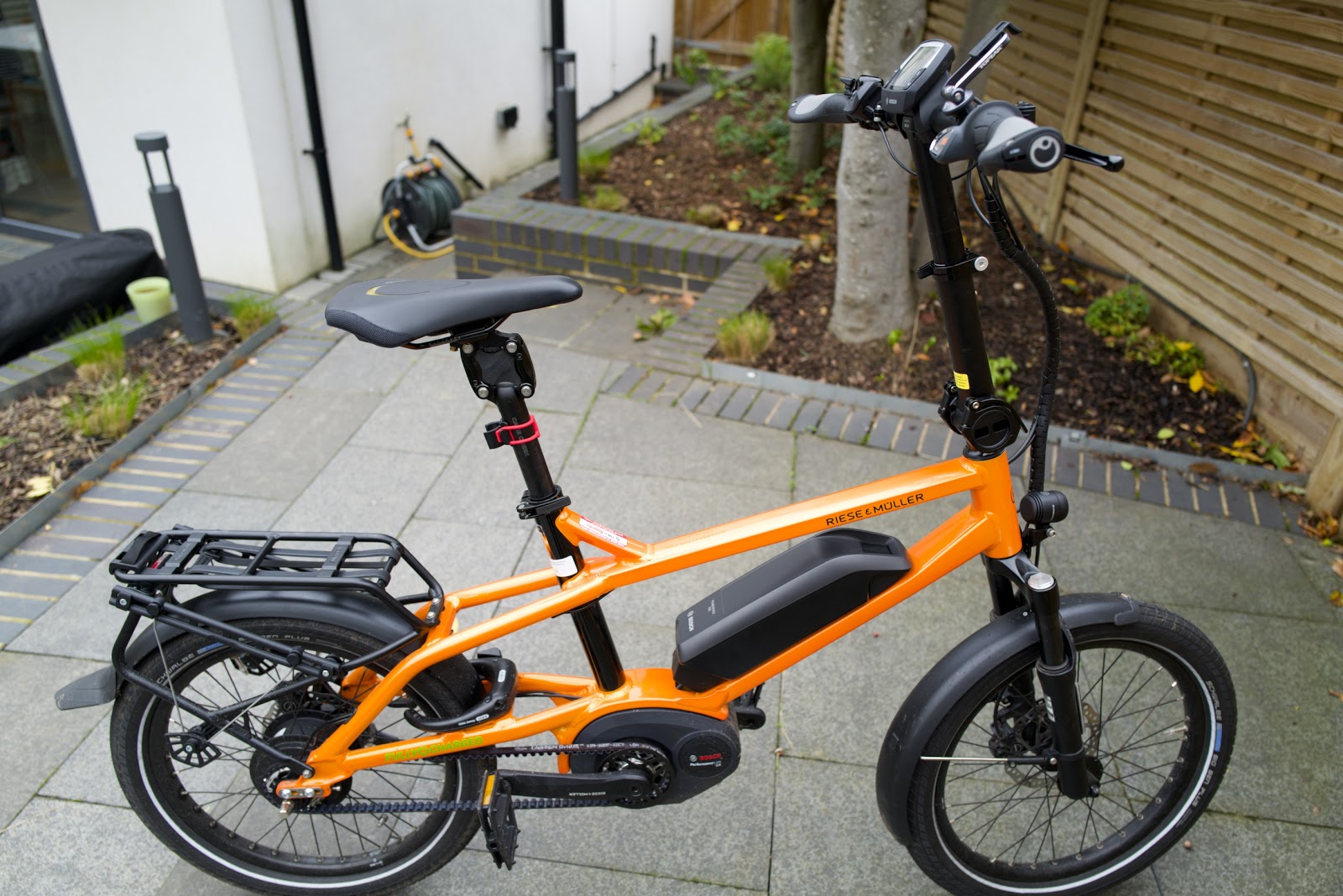 A commuters dream
I hate commuting on the London underground. It's packed with sweaty angry people. My commute involves a 40 km round-trip and a 132 metre climb, which isn't much fun in the dark after a day's work.
I purchased a Tinker from eBike retailer Fully Charged one very rainy winter evening. I thought if I can get home in this downpour then I can do anything. It only took me a few minutes to get used to the gears and the power assistance. Google maps predicted my journey would take sixty minutes. Even with the rain, lack of experience and an unfamiliar route I was home in less than an hour. With the CX motor I hardly noticed the final climb as the Tinker ate Shooters Hill for breakfast.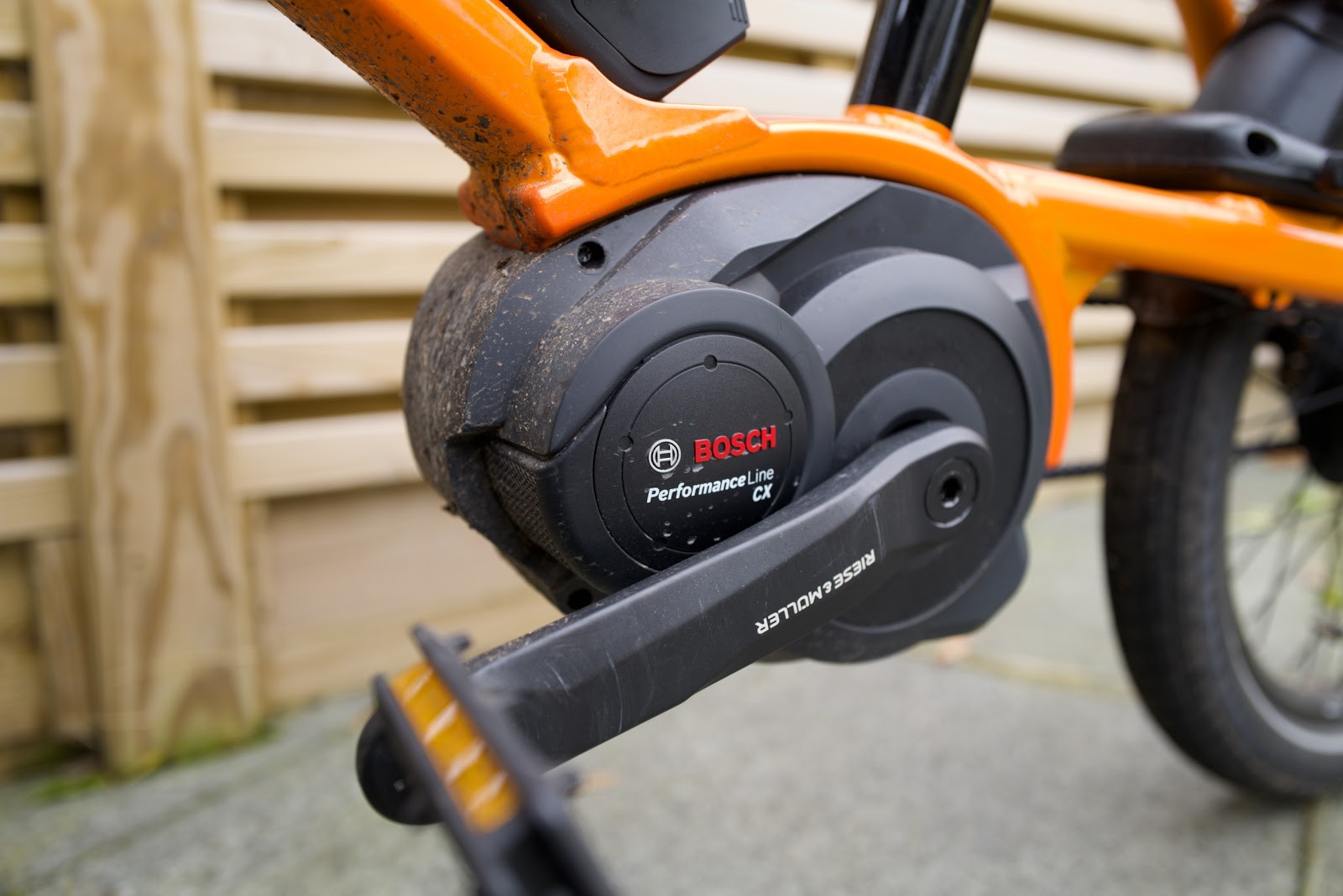 Limitations
- The suspension and solid build means that the bike weighs 24.9K, which is a hefty weight if you need to carry it up a flight of stairs
- If you are thinking of touring you will need an additional battery, or stop to recharge, for distances over 45 miles.
- This isn't a folding bike, but it can be made smaller by folding the handlebar and removing the seat post with the quick release mechanism
A smooth ride
In the first few seconds of riding this bike I felt like I'd known it my entire life. It feels solid as a rock even over the poorly maintained London roads. The stiff steel frame, front & seat suspension (Cane Creek Thudbuster), ergon handlebar grips and Schwalbe tyres (Big Ben Plus) provide a stable handling and a very comfortable ride. The belt drive and special hub gear also.
A bonus is that these tyres have been specially designed for heavy eBikes and enjoy Schwalbe's highest puncture-proof rating.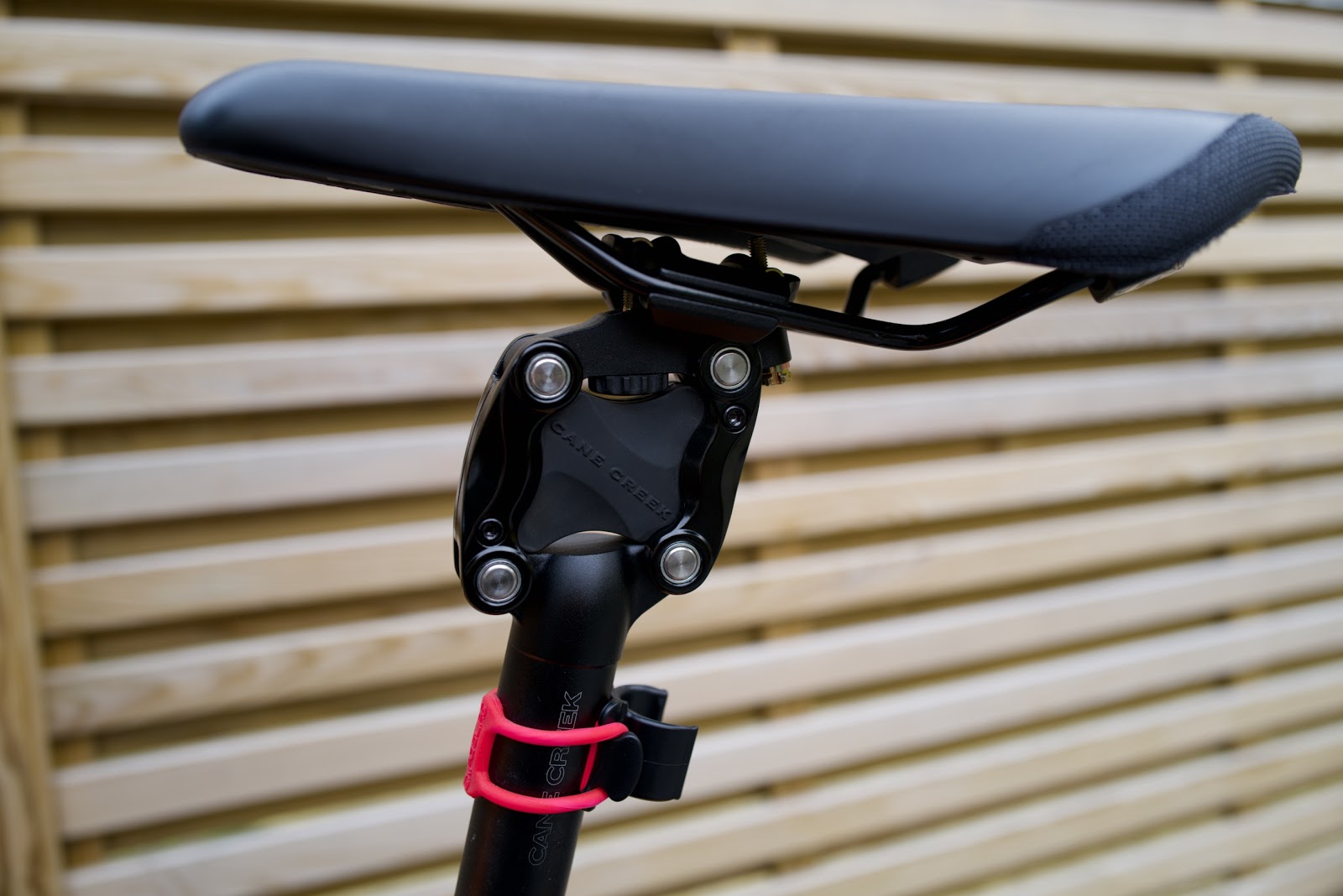 Electrical performance
The very best motor.
The Tinker is fitted with their best motor (Performance Line CX - Gen2) and coupled with their largest capacity battery (PowerPack 500 Performance). I found that I could pull away at traffic lights quickly and stay ahead of the cars. Knowing I could always keep up with the traffic gave me a feeling of safety as I wasn't cycling in the gutter and far less visible to other road users.
Controlling the power using the Intuvia display - mounted on the handlebars is a small screen (Sport Bosch Intuvia) which is linked to a multi-switch you can easily flick with a finger while riding to choose the power assistance and view ride statistics. The screen is back-lit which is bright and clear both night and day.
The display also controls the bike lights and lets you view Trip Distance, Odometer, Clock, Max Speed, Average Speed, Trip Time and Range. I found the range readout helped me choose the most appropriate power mode.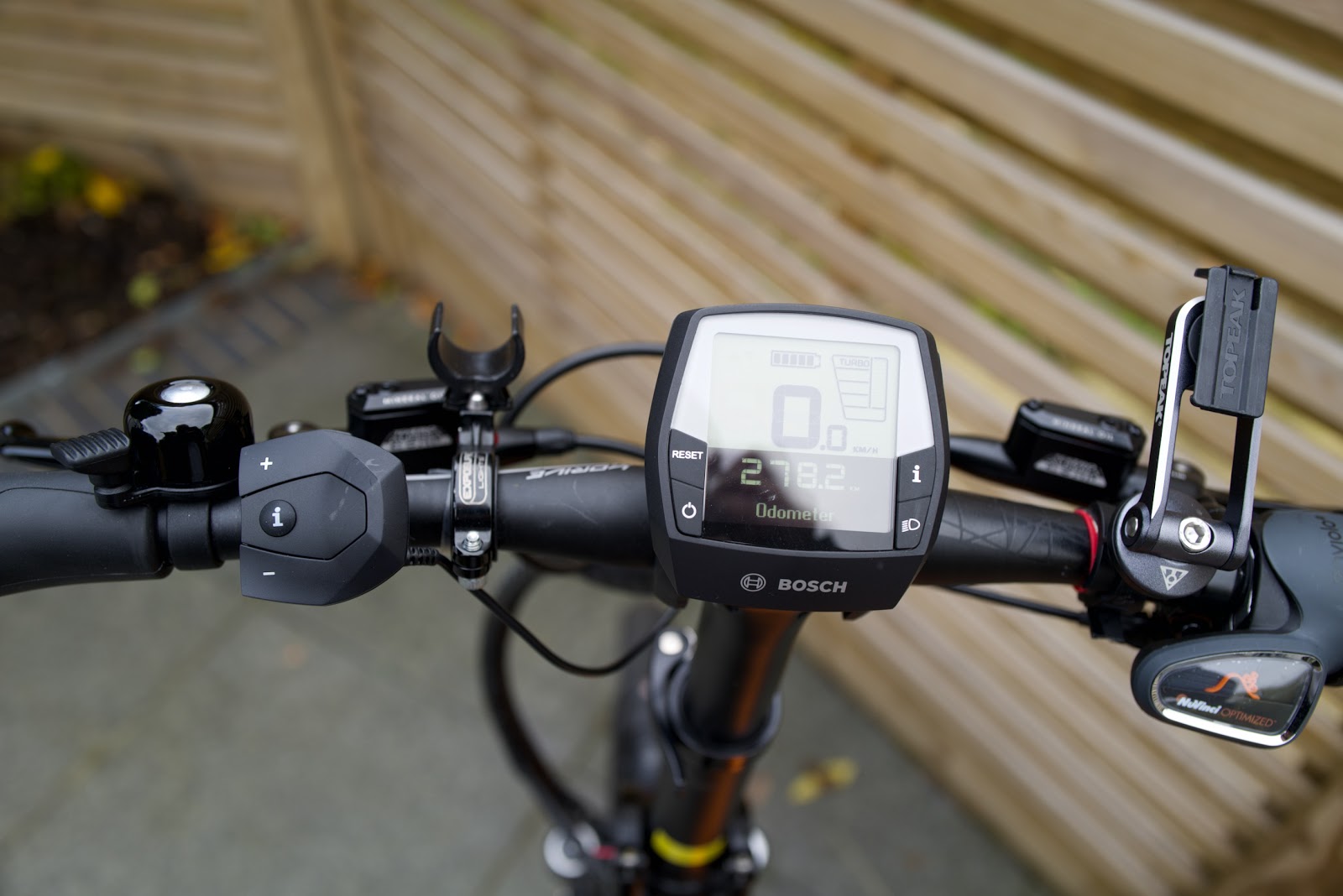 Lighting
The bike comes fitted with a front and rear light which is controlled by the Intuvia display. They run of the main power pack so there's no need to change the batteries. The front is a Supernova E3 and tail light Busch & Müller Toplight 2C LED.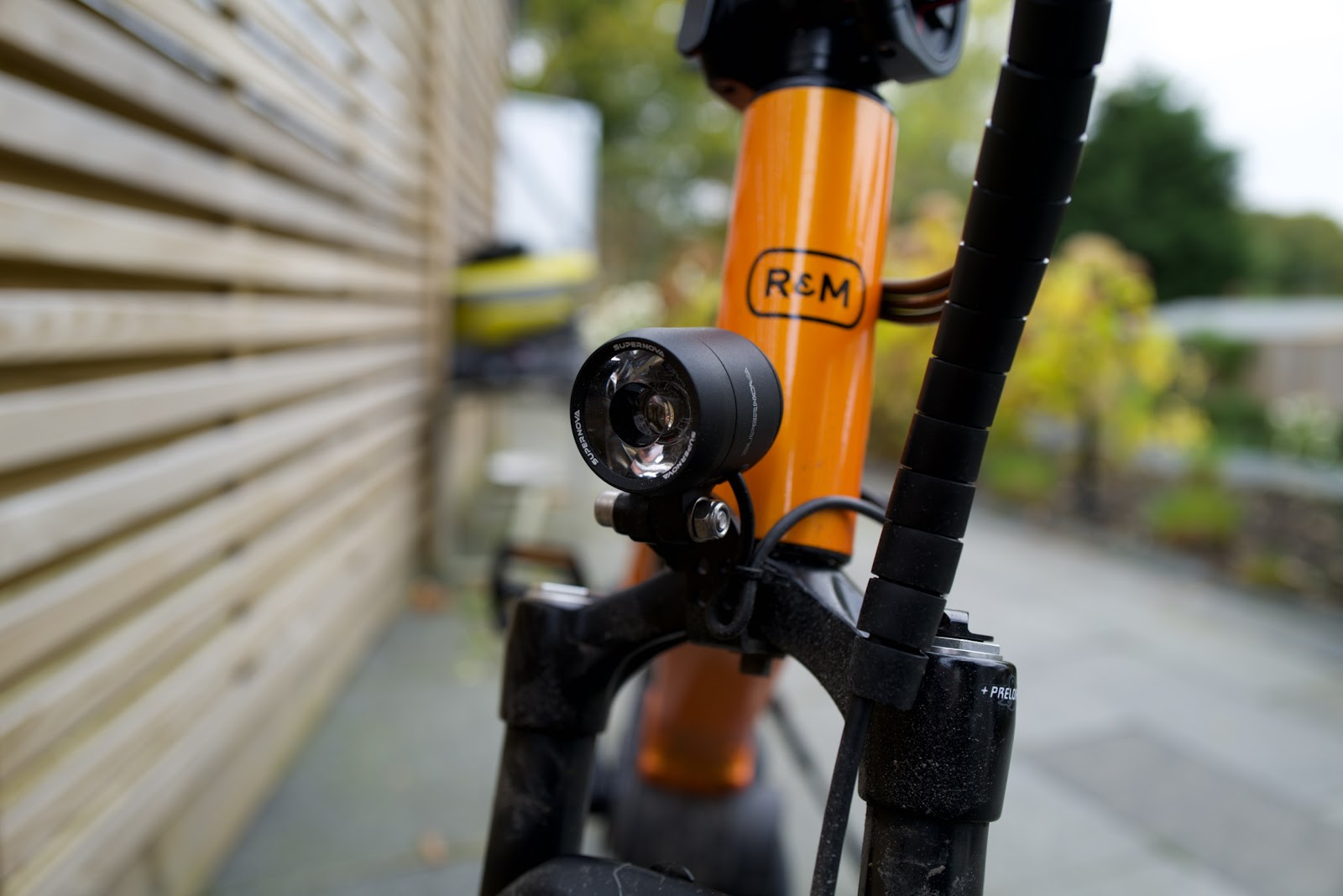 Space-age gears and no more oily chain
I dread to think about how many hours I've spent cleaning metal chains and adjusting gears. That's all in the past thanks to the oil-free belt drive and NuVinci CVT hub gear. Not only is the belt clean and quiet it drives a maintenance-free hub that has stepless gears. Instead of a limited amount of gears this hub uses balls suspended in fluid. Watch the video to see the magic as it's hard to explain.
It takes less than one rotation of the handlebar throttle to shift from the lowest to the highest setting. I found the gear ratio could get me up any hill, but I found it hard to pedal faster than 45km/h downhill, which is fast enough for most people.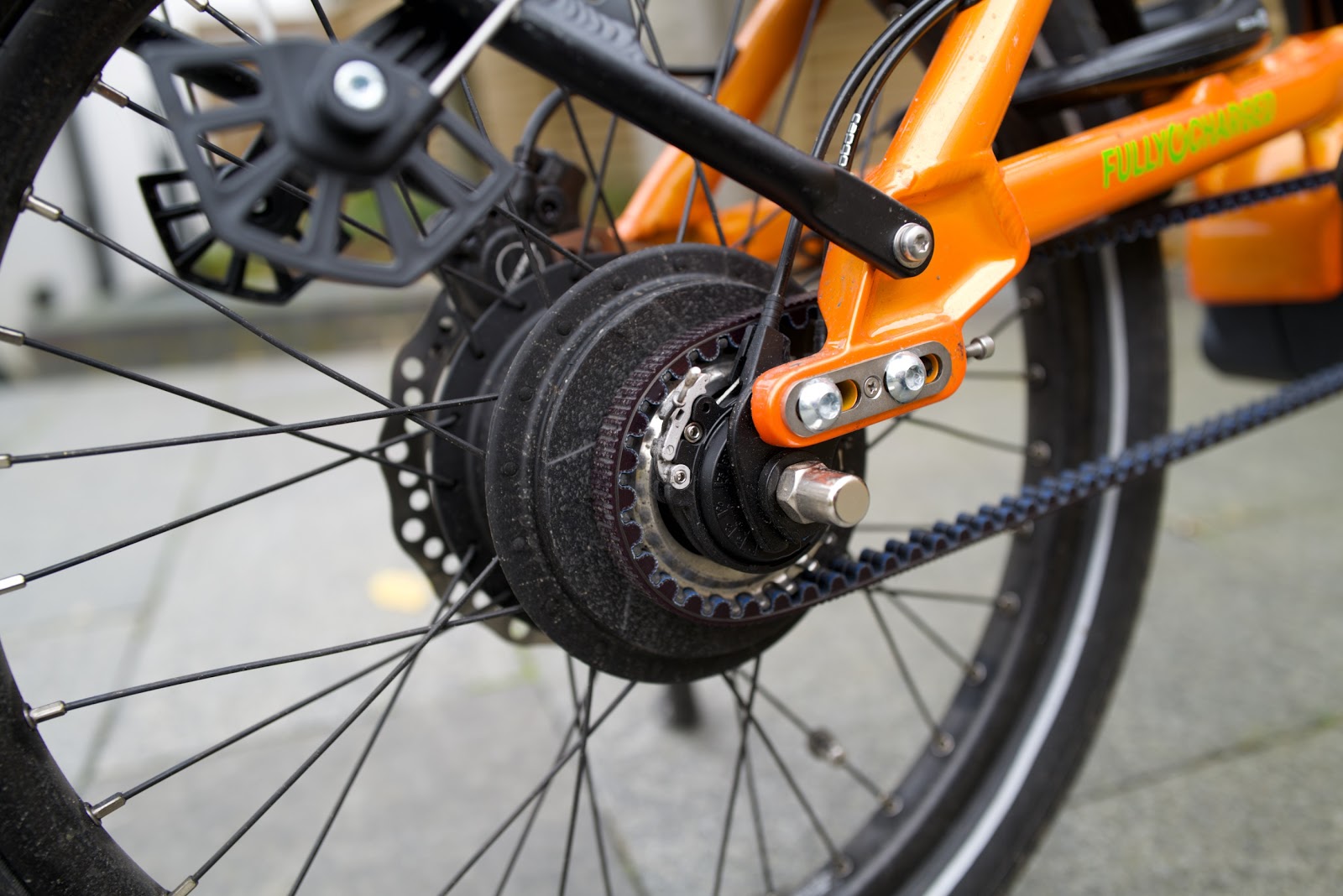 Stopping power
There's not much to say about the front and rear disk brakes other than they work very well. The Tektro Auriga Comp HD-500 disc brakes have automatic caliper positioning somehow using sensors. They sometimes make a noise when wet, but they always work well.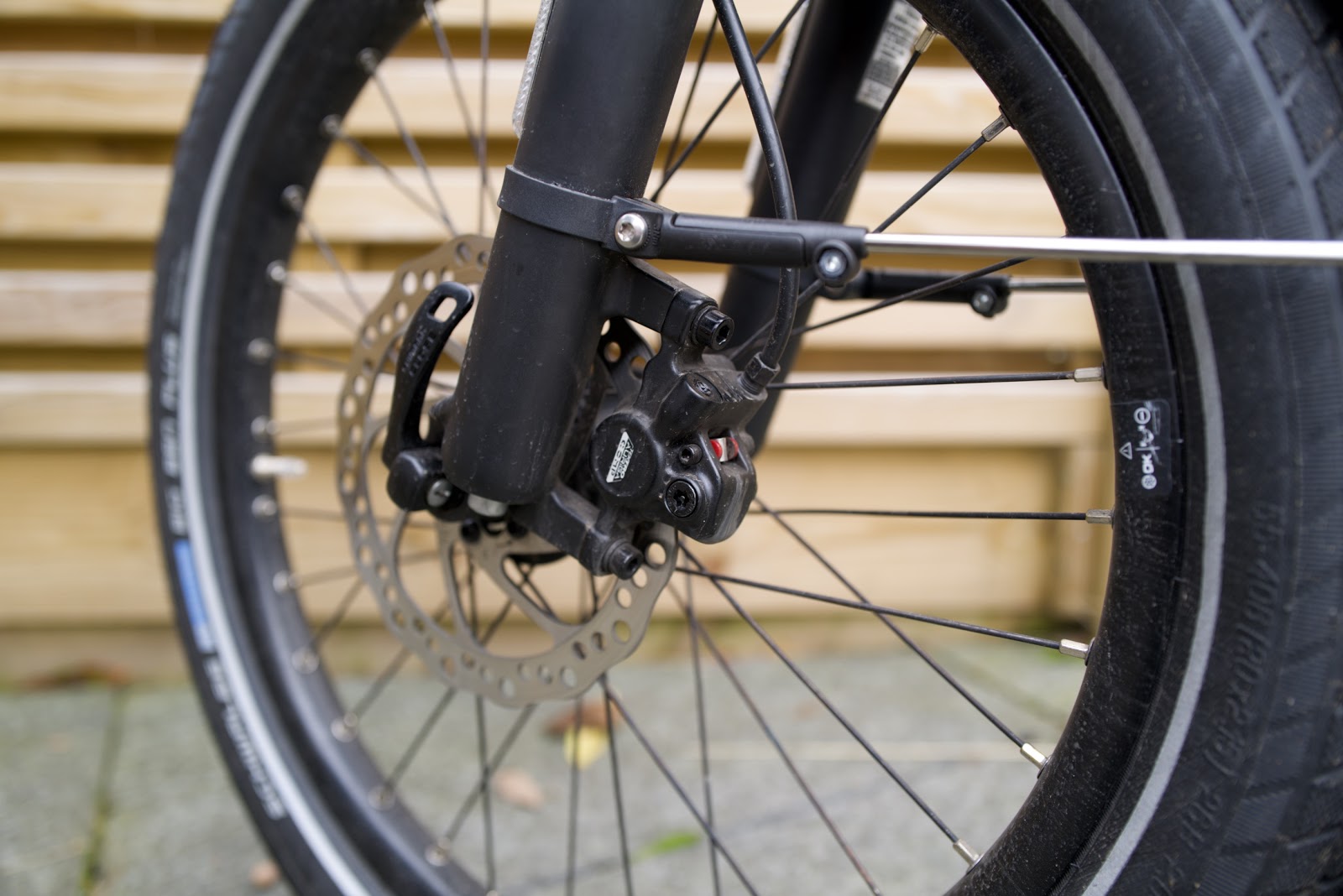 Security built in
The bike is fitted with an ABUS shield frame lock. It's handy if you are just nipping into a shop and don't need high security. There's an optional adaptor frame lock chain from ABUS. This plug into the shield for additional security. Depending on the length and thickness the weight of the chain goes from 803g - 1.4Kg.
The battery is locked to the frame using the same key as the ABUS frame lock. It's a small thing, but it's great that you only need a single key for everything on the bike.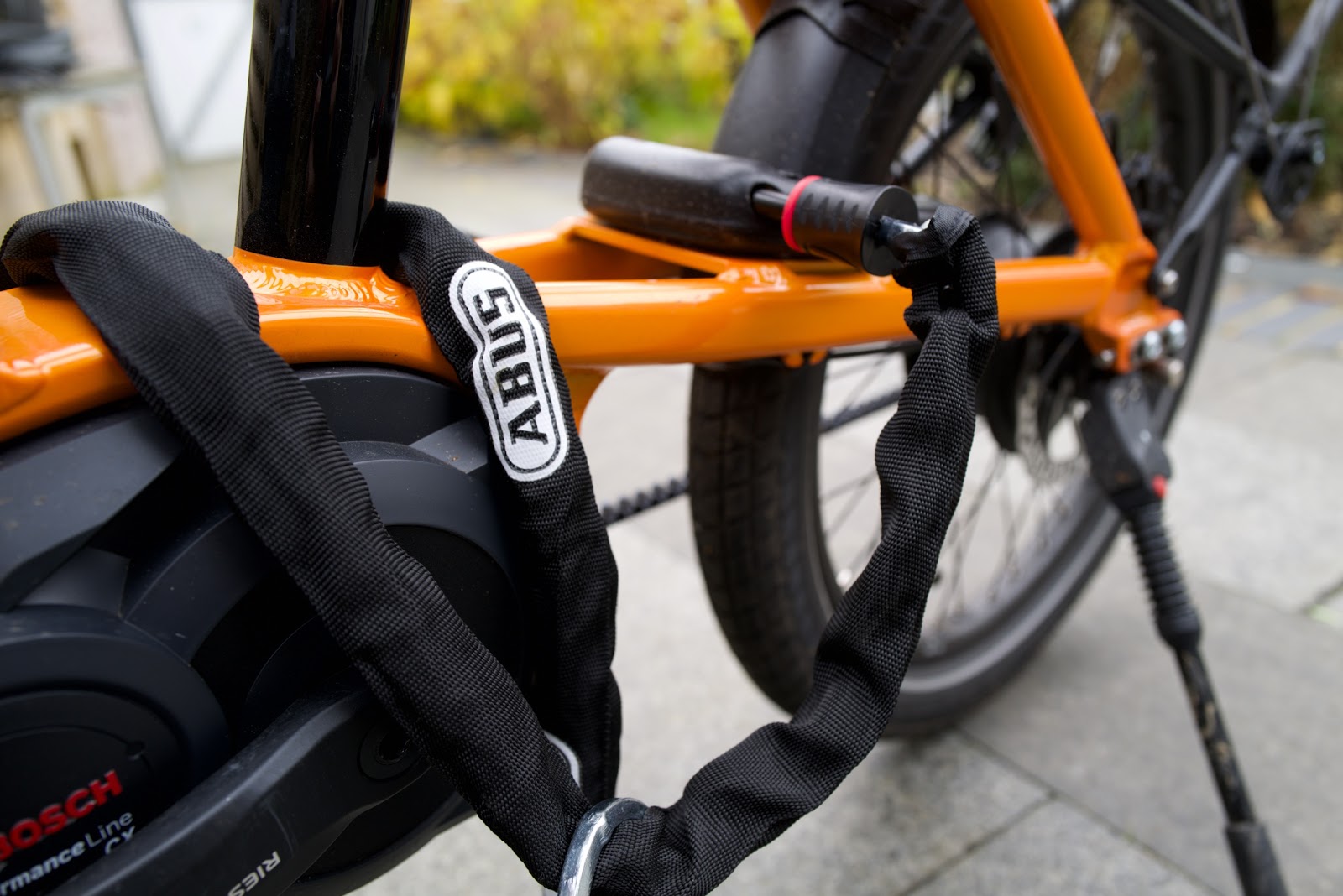 Carrying capacity
The bike is fitted with rear carrier from Racktime. They have a range of panniers and top boxes that are designed to clip onto their carriers. I bought the Racktime Talis Plus top box and two Mare rear panniers. I disliked that it was necessary to remove the top box to put the panniers on or off the rack.
I solved the problem by purchasing the new Ortlieb QL3.1 mounting system and matching panniers; The Commuter-Bag Two and Back-Roller Urban Line. The bags come with a small frame you attach to your rear rack with just three screws. It's much easier now to remove the panniers without having to first take off the top box.
With all three bags I have over fifty litres of carrying capacity. I've been out with a full load and the bike's handling is solid as a rock and not noticeably slower than normal.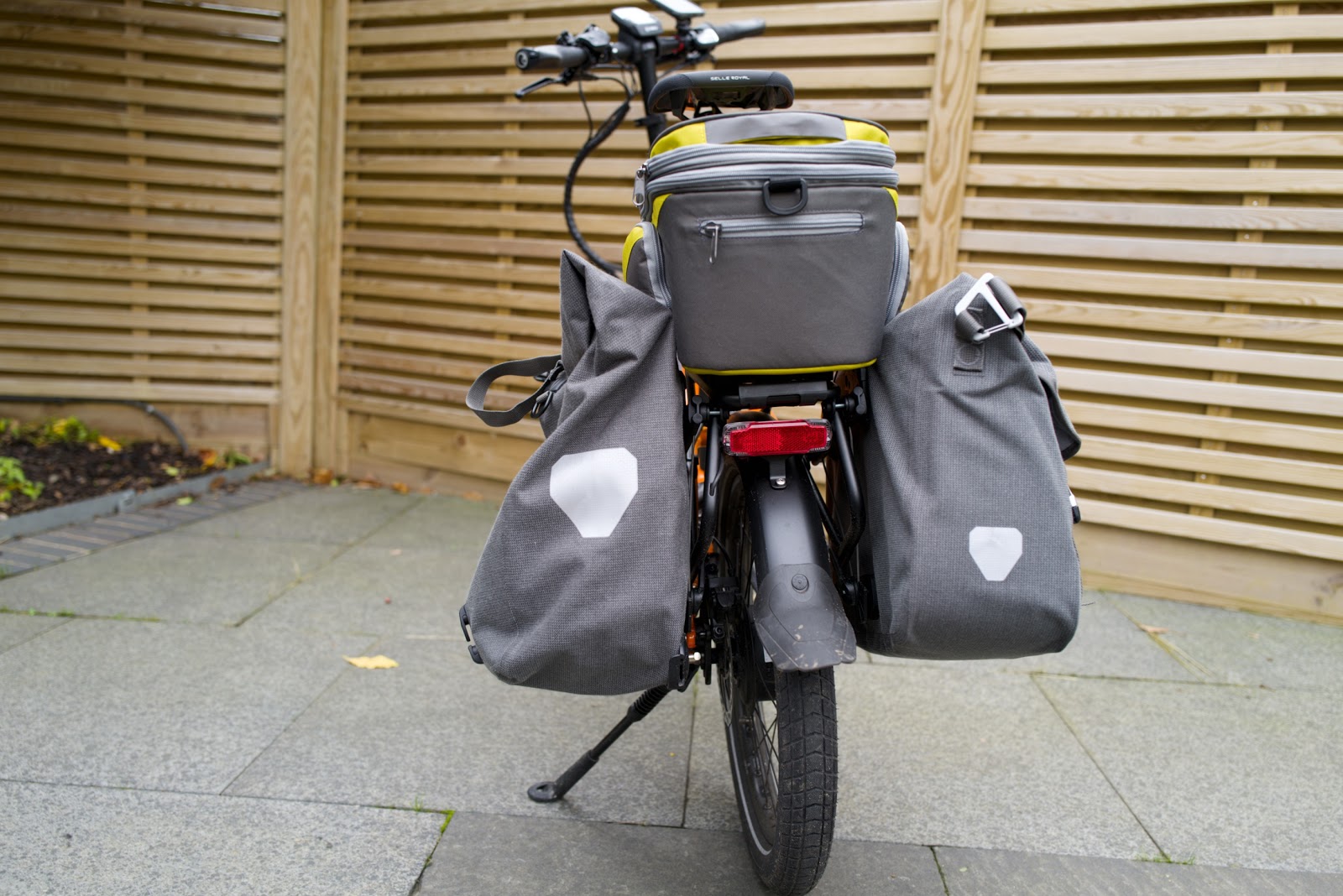 In conclusion
This is one of the finest eBikes on the market. The build quality of Reise & Muller is one of the best in the world, ensuring a safe and comfortable ride. The forgiving tyres and compact build area especially suited to the urban streets. Ask for a test ride and experience it for yourself.
Review by Simon Johnson. Londoner and cycling enthusiast.