Haibike Unleash Industry Changing 2016 Range
German company Haibike recently unveiled their hotly anticipated models for the 2016 season, and in doing so have proven that the electric bike industry is moving forward into exciting new territory. So often pioneers with regards to frame design, materials used and ergonomic creativity, Haibike have continued to sustain their reputation as market leaders by
German company Haibike recently unveiled their hotly anticipated models for the 2016 season, and in doing so have proven that the electric bike industry is moving forward into exciting new territory. So often pioneers with regards to frame design, materials used and ergonomic creativity, Haibike have continued to sustain their reputation as market leaders by revealing new designs for the highly popular sDuro, an e-bike specifically aimed at children and the first ever full carbon electric mountain bike (e-MTB). From their hometown of Schweinfurt, Haibike presented a range of new e-bikes and products to a select few retailers, and we at Fully Charged got all the details you need.
Focusing on a more ergonomic and lightweight frame layout, the durable and highly efficient batteries are integrated into the frame in a weight-saving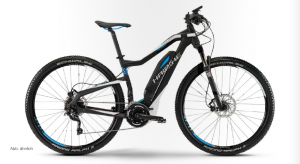 initiative. This new Step In design, added to the powerful Yamaha motors mean that the sDuro range perform like never before, giving you a brand new riding experience; faster descents and increased climbing speeds.
A completely new e-bike was also presented to the public for the first time; the FullFat Full Suspension e-MTB. Following on from the increased demand for an e-bike that can tackle any terrain imaginable; from snow to sand, dirt tracks to slushy mountainsides. The greater surface area of the tires provides comfort, control and quality when riding over challenging routes, meaning you can enjoy your e-mtb experience in never-before-tackled environments.
Coupled with the new designs is the updated Bosch motor system. Rotated and reduced in size, the motor now sits as an integrated aspect of the lightweight aluminium frames on the xDuro, providing a more streamlined and performance driven design.