Top 10 Hybrid eBikes for 2024
Explore the sweet spot between city cruising and countryside adventures with our curated list of hybrid electric bikes. We've gathered the best from top manufacturers, offering a versatile ride for all terrains. Check out this year's A-List line up from the likes of Moustache, Riese & Müller, Desiknio, Tern, Gazelle, Super73 and more.
Moustache J All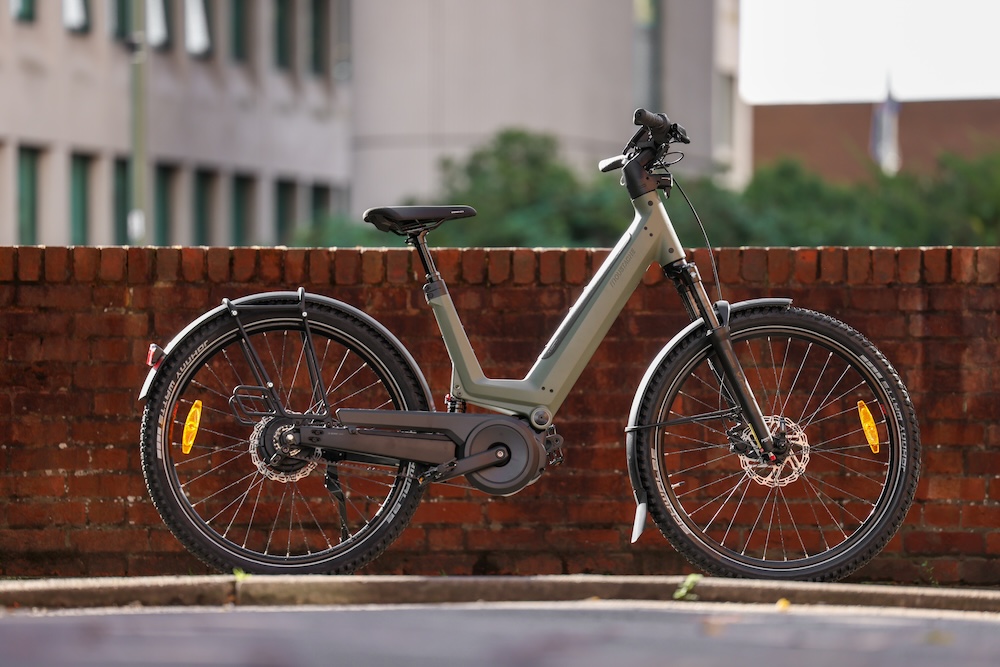 The Moustache J All, Moustache's groundbreaking electric bike for 2024, redefines versatility, dynamism, and user-friendliness within the Moustache family. Ideal for navigating hyper-urban, suburban, and countryside roads, as well as gravel tracks, it's a true all-rounder.
This sporty, safe, and comfortable ride, equipped with Bosch Smart System technology, a Performance Line motor, 625Wh PowerTube battery, Enviolo gearing, and a full-suspension system, ensures an exceptional experience in both city traffic and winding country roads. With features like an adjustable handlebar, integrated lights, and a dropper seatpost for comfort, the Moustache J All offers a streamlined urban experience. The Bosch Smart System, paired with the eBike Flow App, Kiox 300 display unit, and ConnectModule, provides over-the-air updates, custom riding modes, and security features.
Whether tackling hills effortlessly with the Bosch Performance Line motor or enjoying maintenance-free riding with the Enviolo gearing and Gates Carbon Belt Drive, the Moustache J is designed for a hassle-free and enjoyable ride.
Riese & Müller Delite4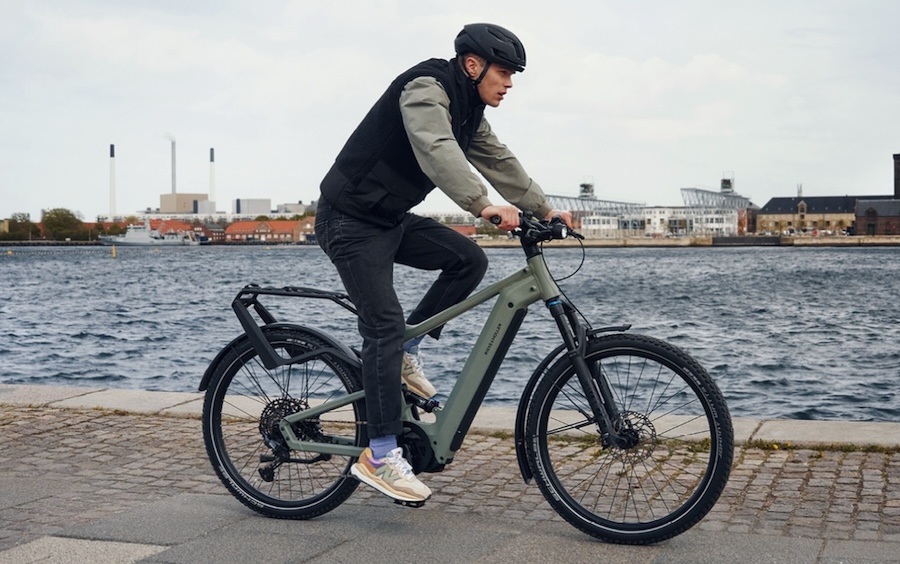 The Riese & Müller Delite and Delite4 are the epitome of high performance and versatility in the electric bike world. The Delite offers a seamless transition between city cruising and off-road exploration, thanks to its full-suspension 'Control Technology.' On the other hand, the Delite4 is hailed as an all-terrain all-rounder, excelling in both urban and rural environments.
With 'Control Technology,' Bosch Smart System integration, and a variety of gearing options, it adapts effortlessly to commuting, cross-country trips, or forest trails. The Delite4's digital future is secured by the Smart System, providing over-the-air updates and a substantial 750Wh Bosch PowerTube battery.
Both models offer the highest performance with the Bosch Performance CX Motor and the flexibility to customise with various equipment and gearing options. Whether exploring city streets or tackling challenging terrains, these bikes redefine luxury, performance, and adaptability in the electric bike landscape.
Super73-Z Adventure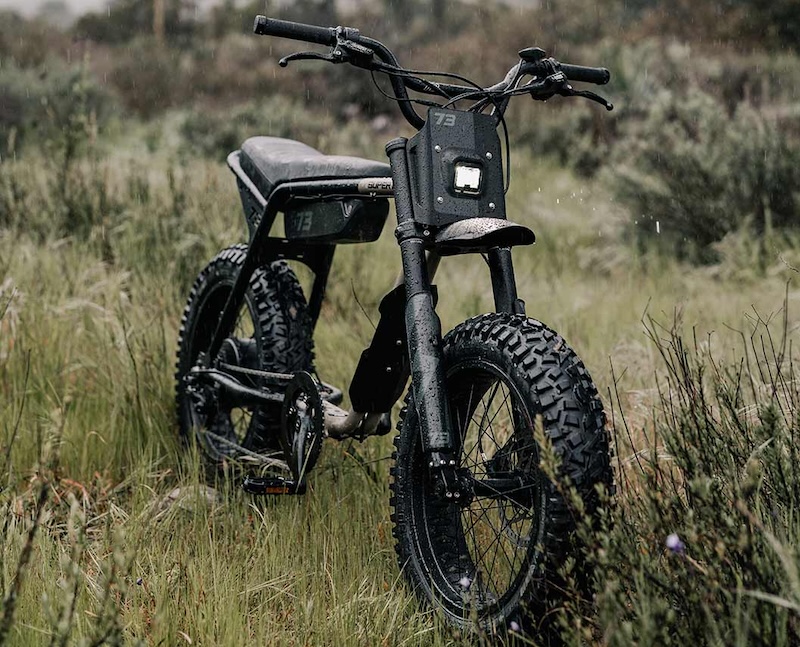 The Super73-ZXE Adventure caters to comfort-seeking commuters ready for off-road exploration, boasting robust tires, enhanced suspension, and vibrant color options. With 4 Riding Modes and 4 Speed Levels accessible via the Super73 App, riders can customize their experience for specific terrains.
The removable battery allows on-the-go charging, offering an estimated 25-50 miles range with the ZX model. As an American brand from Southern California, Super73 blends motorcycle heritage and youth culture, emphasising thoughtful design and community engagement, breaking new ground within the eBike industry.
The Adventure Series features LED lights, 8-speed gearing, and hydraulic disc brakes for night rides, smooth shifts, and controlled stops in various conditions.
Tern HSD P10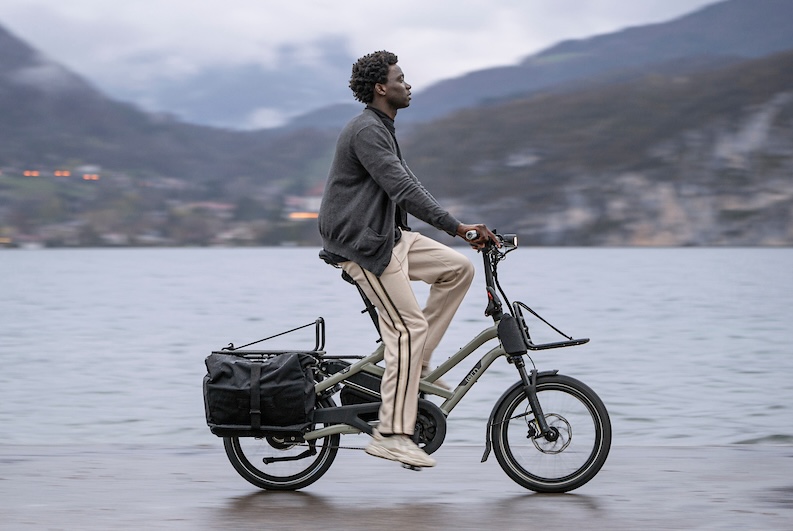 The Tern HSD P10, a compact electric cargo bike, is a versatile solution ideal for a myriad of tasks, from the weekly shop to the school run or exploring areas beyond the city. Despite its lean and nimble design, the Bosch-powered HSD P10 boasts a maximum gross vehicle weight of 180kg, making it an efficient cargo hauler. Equipped with a 10-speed Shimano Deore groupset, Bosch Performance Line motor, and a 545Wh PowerPack battery, it delivers ample assistance and a range of up to 75 miles.
The Tern HSD P10's robust frame, enhanced rack design (supporting up to 80kg), and integration of the Bosch Smart System make it an ingenious all-rounder. Bridging the gap in compact electric cargo and folding bikes, Tern focuses on ride quality & neat storage solutions, making it perfect for commuting and storage.
With its ability to carry passengers or cargo, easy adaptability for various rider heights, and quick transformation for storage, the HSD P10 stands out as one of the most practical electric bikes on the market. The addition of the Bosch Smart System, offering over-the-air updates and security features, further enhances its appeal as a reliable and future-proof hybrid eBike.
Vintage Electric Scrambler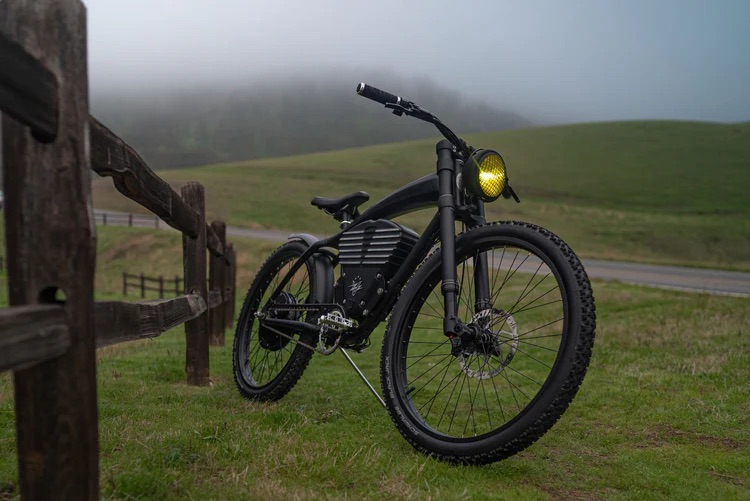 The Vintage Electric Scrambler, handcrafted by the Vintage Electric team in California, stands out as one of the coolest and fastest electric bikes available in 2024. This homage to the outlaw era seamlessly blends style with performance, making it perfect for exploring dirt trails, coastal byways, or cruising through town.
With a new 72-volt motor, the Scrambler offers a conforming road-use mode and a race mode for private land use with landlord consent. Boasting a robust 1123Wh battery, it provides an impressive 75-mile range. The Scrambler pays tribute to the off-road motorcycle racing era while embracing the future of electric power. With a powerful rear hub motor allowing speeds of up to 36MPH in race mode, the bike is a wolf in wolf's clothing, combining style with speed.
The hydro-formed aluminum frame, dual crown suspension, eBike-optimized tires, and regenerative hydraulic disc brakes make the Scrambler a versatile and capable ride, while the new operating system enhances the overall riding experience. Whether navigating city streets or tackling challenging trails, the Vintage Electric Scrambler is a standout in both design and performance, embodying the spirit of adventure.
View Vintage Electric Scrambler
Riese & Müller Roadster4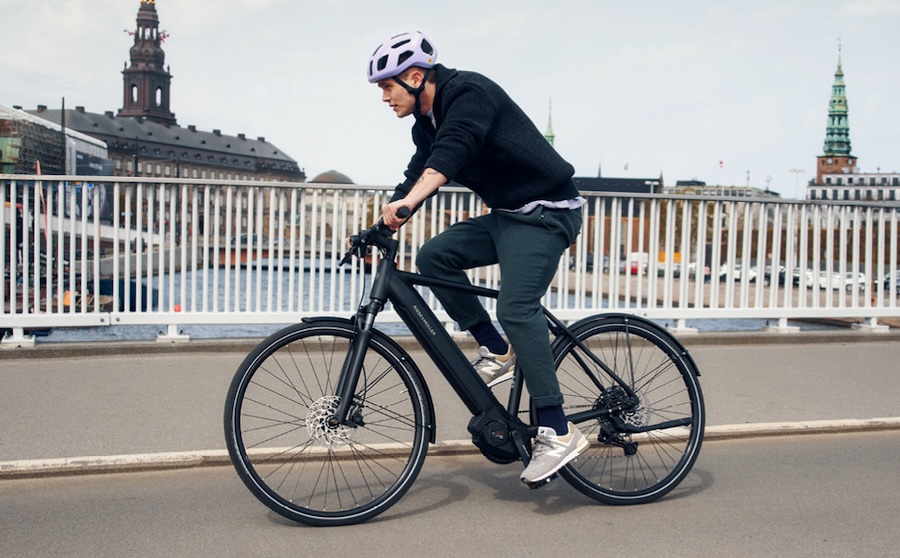 Introducing the Riese & Müller Roadster4, where sporty speed and robustness takes centre stage. Imagine the Roadster as the electric bike equivalent of the modern Porsche 911, exuding a perfect blend of sleek design and high performance, zipping through the city streets with agility.
Embracing the digital future, it features the Bosch Smart System, offering a Performance CX motor, 625Wh PowerTube battery, Purion 200 display (upgradeable to Kiox 300), powerful headlamp, Suntour NCX suspension fork, and an optional comfort kit. The Roadster4 is the ultimate city bike, equipped to handle any challenge at the right speed, providing a dynamic and efficient urban riding experience.
Moustache Samedi 27 Xroad 2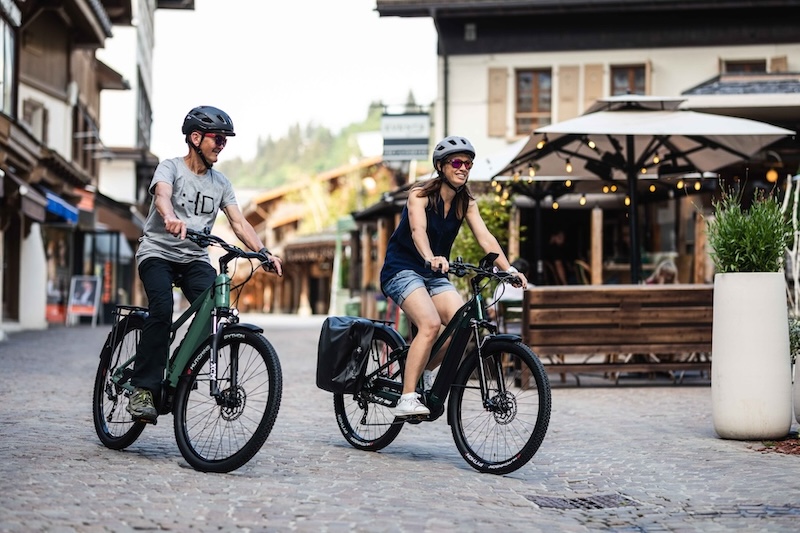 The revamped Moustache Samedi 27 Xroad 2, Moustache's 2023 best-seller, introduces the Bosch Smart System for upgraded performance. Seamlessly blending urban and mountain biking, it's perfect for diverse terrains—commutes, shopping, or forest rides.
The new Performance Line Smart System motor provides 15% more torque and 40% increased pedal assistance. Moustache, an expert in electric bikes, prioritises quality, purpose, and fun in their comprehensive collection. Key features include a 340% pedal-assist Bosch motor, 500Wh PowerTube battery, Intuvia 100 Head Unit, SR Suntour suspension, Hutchinson Python tires, versatile luggage options, integrated safety accessories, and Shimano MT200 disc brakes.
The Xroad 2 embodies Moustache's vision, ensuring a joyous ride across varied terrains with enhanced performance and practicality.
View Moustache Samedi 27 Xroad 2 Open
Gazelle Ultimate C380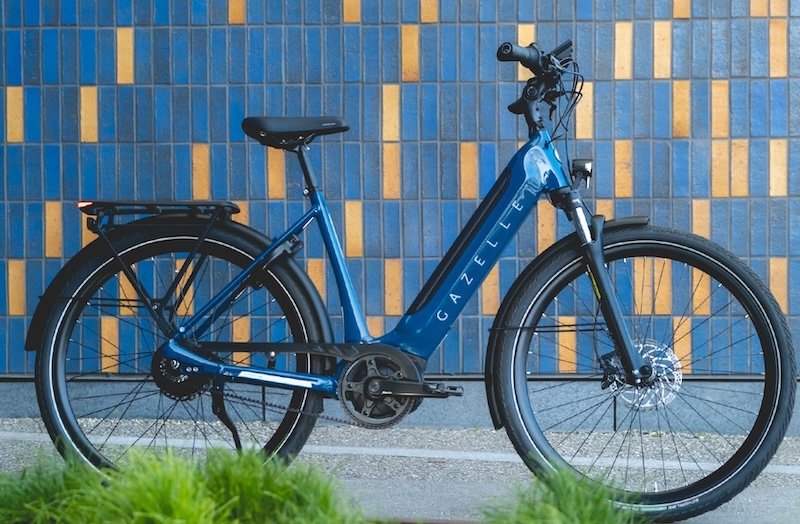 The Gazelle Ultimate C380 HMB seamlessly blends the qualities of an urban bike and a comfortable touring bike, making it a versatile choice for a wide range of riders. The beautifully designed aluminium frame, integrated battery, and dynamic lines ensure a confident and balanced ride.
The Enviolo continuously variable transmission, combined with wide tires, front suspension, and a relaxed posture, delivers undeniable comfort. The silent belt drive, powered by the Bosch Performance Line motor, provides a quiet and powerful experience for everyday journeys or extended explorations. Boasting top-tier components, wide tires, suspension features, and a gel saddle, the Ultimate C380 prioritises rider comfort.
Essential features such as battery-powered lights, mudguards, and a rear rack further enhance its practicality. As the top-spec model in the Gazelle Hybrid eBike range, it features a Bosch Performance Line motor, a 500Wh PowerTube, and the Enviolo continuous transmission, ensuring a high-performance and enjoyable riding experience.
Moustache Samedi 28.7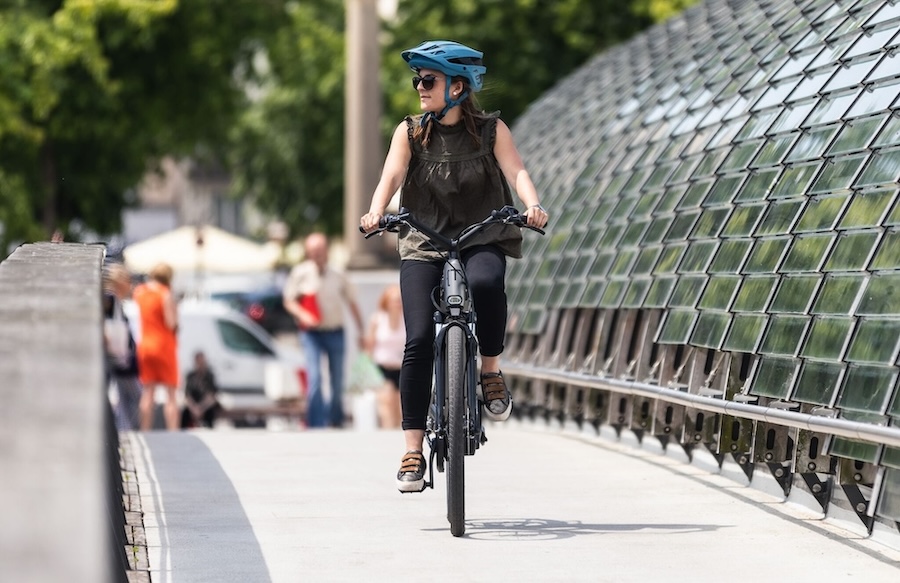 Moustache's premier trekking electric bike, the Samedi 28.7, has been elevated for 2024, standing out as a versatile powerhouse in both urban and off-road settings. Boasting the advanced Bosch Smart System technology, this eBike delivers exceptional performance and comfort, seamlessly conquering city commutes, canal paths, and challenging terrains.
The Open frame variant offers a low step-over height, enhancing accessibility. The upgraded Smart System Performance Line motor provides a punchy 15% more torque and 40% increased pedal assistance, injecting substantial power into your rides. Moustache, renowned as a 'born-electric' brand, showcases its commitment to quality, purpose, and enjoyment.
The Samedi 28.7 aligns with Moustache's vision, offering a structured collection that caters to diverse terrains. The new Kiox 300 head unit, integrated accessories, and top-notch features including GPS navigation, as well as the Suntour front suspension and Shimano hydraulic disc brakes, underscore the bike's technological prowess and comfort. With the ability to effortlessly handle over-the-air updates and range anxiety concerns, the Samedi 28.7 is a beacon in the digital evolution of electric bikes, while remaining simple to use, setting it apart from its predecessor and making it an ideal choice for riders seeking a cutting-edge trekking experience.
Benno Boost E Evo 5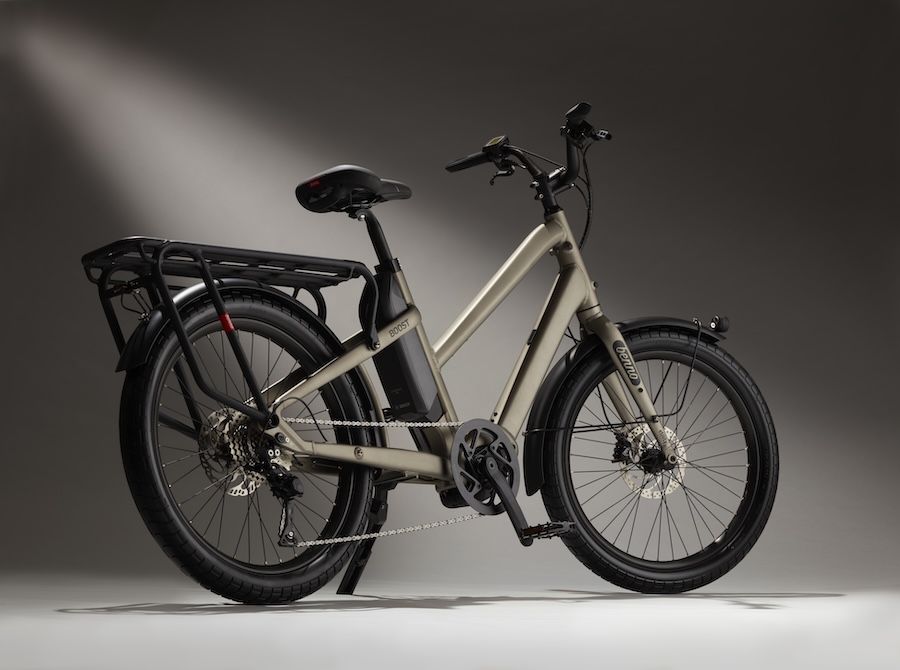 The Benno Boost E Evo 5, a Swiss-made electric cargo bike, redefines urban mobility with versatility and robust design. Ideal for conquering diverse environments and heavy loads, this Etility® bike excels in both city streets and remote terrains.
Featuring a compact aluminium frame, custom tires, and a powerful Bosch Performance Line CX Electric motor, it offers a comfortable and manoeuvrable ride. Noteworthy for its intelligent carrying capability, it accommodates various configurations for professionals, adventurers, couriers, or suburban explorers.
Born from Benno Baenziger's vision, founder of the Electra bike brand, Benno bikes create an Etility experience that seamlessly blends ride dynamics with substantial utility. The Boost E Evo 5 features cargo carrying up to 200kg, dual battery options, integrated lights, Shimano Deore gearing, and the reliable Bosch Performance CX Motor for efficient rides on diverse terrains.
Researching and potentially buying an eBike is an enjoyable process, and it can take time! The bikes above have differing areas of strenghts, and are most comfortable in certain habitats. If you would like to learn more, feel free to give us a call on 0207 111 0977, or book for a test-ride at either London Bridge, Silverstone, Cornwall or Guildford today.