New 2017 Moustache ebike range and changes
New 2017 Moustache Ebike news In a year where Bosch are consolidating on their innovation, what have the French ebike manufacturer done to keep their bikes fresh? Ever since day one moustache have partnered exclusively with Bosch for their motor, battery and screen system so with most of the Bosch developments being subtle,  we are
New 2017 Moustache Ebike news
In a year where Bosch are consolidating on their innovation, what have the French ebike manufacturer done to keep their bikes fresh? Ever since day one moustache have partnered exclusively with Bosch for their motor, battery and screen system so with most of the Bosch developments being subtle,  we are curious to see if/how Moustache have moved forward.
Brief overview of changes
New, more affordable Lundi & Samedi models
Full range of xroad bikes (Lundi, Friday, Samedi & Dimanche)
New mountain bikes with integrated Bosch battery
More Bosch performance motors & 500wh batteries
New Nuvinci 380 hub on certain models
New Hydroforming Frame technology
Improved weight balance
New Bosch Purion display on certain models
NEW MODELS
Lundi 26 9s £1995*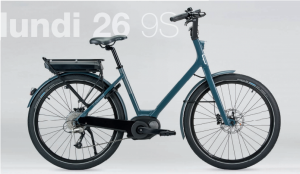 The Tradition of the Lundi is in the innovative frame design which has vertical flex to filter out vibrations while at the same time has a triple cavity tube for lateral stiffness. The new 9s takes advantage of their experience with the Active line Bosch motor to bring a more affordable model to market. Features include:-
300wh battery
Integrated wires
Balloon 26×2.35 tyres
Shimano Hydraulic disc brakes
Supplied with fitted mudguards and rear pannier rack
Friday 27 Brooks £3350*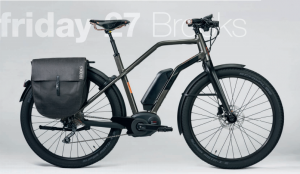 This collaboration comes as brooks celebrate their 150th anniversary. This bike is the Friday 27 Black 5 but with the saddle and grips upgraded to the brooks 150 anniversary models and supplied with the 'Brick Lane' roll up pannier and a Supernova front light which can be controlled from the Bosch screen.
Samedi 28 Brown & Samedi 28 Brown Open £1850*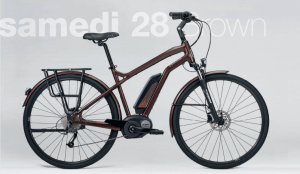 Could this be one of the most affordable Bosch active line bicycles? Offered in both step-through or crossbar frames this bike has everything you would need when enjoying a weekend ride including:-
300wh Bosch battery
New Purion Bosch screen
Shimano Altus 9 speed gears (17 x 11/34)
Hydraulic Disc brakes
The Xroads
Moustache are one of the first companies to recognise the new All-terrain style of riding which requires certain adjustments from the normal models. More and more riders are searching for a multipurpose bicycle that can be used daily in an urban environment but has the capability to travel off road.
Samedi xroad features include:-
400/500wh batteries
Purion display
Active & Performance motor options
Crossbar or step though frames
Moustache tubular alloy mudguards
Mixed micro spiked tyres for a fast ride but grip on all terrains
Dimanche xroad:-
Performance motor & 400wh battery
Exclusive carbon fork
Comes with two sets of continental tyres (race king 29×2.0) & (sport contact 700×37)
9kg
Comes in frame sizes XS, S, M & L
Shimano 180/160 hydraulic disc brakes
Shimano Deore 10 speed drivetrain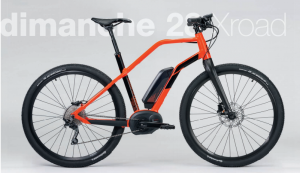 New Integrated battery Range
2017 sees Moustache start to integrate their Bosch batteries into their frames. This is a major development for Moustache but also for Bosch. Until recently Bosch powered bikes have been easily recognisable mainly thanks to the precense of the frame mounted battery. This new range of bikes has integrated 70% of the battery into the frame virtually concealing the battery on first glance. This is a feature that a lot of people are looking for and we are excited to see that it has been done with a Bosch powered bike. The new models with integrated battery are:-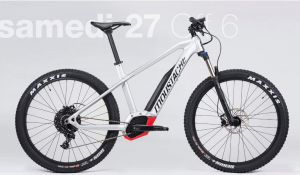 Samedi 27 Off 8*
Samedi 27 Trail 6*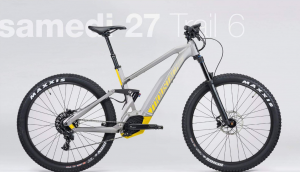 Samedi 27 Trail 8
Samedi 27 Trail 9
Samedi 27/9 Trail Limited*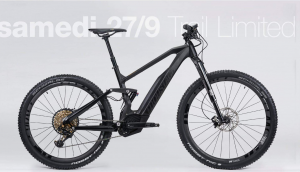 Samedi 27 Race 6
Samedi 27 Race 8
Samedi 27 Race 9
As well as these major developments a lot of their standard models have had either motor, battery or maybe both upgrades, so please look carefully at each bikes different specifications.
*Due to current currency fluctuations, these prices are yet to be confirmed.