New 2017 Yamaha PW-X Ebike Motor
Yamaha's New 500Wh PW-X E-Bike Motor
Fully Charged is pleased to bring you a world exclusive from Japan (Germany) on their SDuro ebike motors in Haibike e-bikes. We have been lucky enough to be invited to the Haibike 2017 launch event in Germany and there is lots of exciting news to bring back to London.
The biggest news from the event is courtesy of Yamaha. They have spent 2016 working on the PW motor that was launched in 2015 and have created the PW-X. This new motor is promoted as offering a pure, more authentic ride.
Just as Bosch did in 2016, Yamaha have upgraded their battery so that now they can offer a 500wh. This you would expect from anyone taking their ebike motors seriously, but is that it?
Definitely not, the 2016 motor is 13% smaller and 11% lighter (PW – 3.4kg/PW-X – 3.1kg) this has been realised by making a hollow axle shift and thinning the case.
In 2016, Yamaha didn't alter much on their motor, they did add a fourth power mode (eco +) and 2017 will see a fifth (extra power) this new mode allows the release of further power held by the motor thanks to the improved cooling effect of the new design. This helps riders recover from tight turns or climbing even steeper slopes.
In order to reduce the mechanical lag they have reduced the friction in the ratchet mechanism, this is also aided by the lighter moving parts (axle shaft)
eConnect App
Are you worried about the security of your bike? eConnect now has a GPS tracking system so you will always know where your bike is. It has a small internal battery if needed, otherwise it uses a small amount of power from the battery of the bike.
You also have access to ride data through the eConnect App.
This will be released with on a number of Haibike 2017 models, and will also be available to retro fit onto any Yamaha Haibike's.
New Controller
2017 will also see an upgraded ergonomic controller making their new bikes much easier to operate during any type of riding.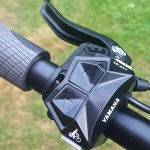 All of these innovations are great, but we have saved the best till last, the all new interface. The new standard Yamaha 'screen' is simple and tough designed to let the rider concentrate on their ride but what is most exciting is the integrated screen into the stem of the bicycle (picture) Not only does this give their bikes a unique un ebike look but it also combats a number of other issues such as theft and durability in the case of crashing.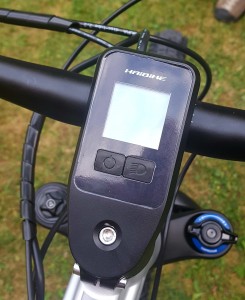 Conclusion
2016 saw Bosch release the Cx motor, which was ultimately the same as their older performance motor just inverted in the frame, with the same intuvia screen albeit with 500wh battery options and extra torque. The Yamaha PW-X is smaller and lighter, stronger and should be just as reliable and if they carry on their previous trend, it will be a lot more affordable than the equivalent Bosch system.