The Moustache Electric Bikes Updates For 2023
Curation and discovery is high on the agenda for us at Fully Charged, and before taking on any manufacturer, we scour the planet, test-visit factories and sample prototypes to find electric bikes that make the cut, only stocking the makes and models that we know are the best. It's a very selective process and one we pride ourselves on.
Coming into their twelfth season, 'born electric' French manufacturer Moustache Bikes have been at the forefront of cultivating the very best Bosch powered electric bikes. The French brand has created a vision for what an electric bike should stand for: quality, purpose and fun.
With a structured collection of urban, hybrid, trekking, road, eMTB, tandem and kids bikes, Moustache's entire family, from its people to its components, are designed to have every terrain covered, so you can focus on going from A to Beyond with beautiful #smilingmachines at your fingertips and feet.
With their 2023 updates, we can see just why they are still at the pinnacle of the electric bike movement globally, and why we are so proud to stock them after being their first dealer to bring them into the UK nine years ago.
Here we take a look at five electric bikes we know are going to be standouts for model year 2023:
Moustache Samedi 27 Xroad Range
The Moustache Samedi 27 Xroad range is Moustache's best selling product for a reason. It is the most versatile and dynamic of all of its siblings and offers ultimate comfort and grip whenever you're riding.
All Moustache Samedi 27 Xroad updates come with the all new Bosch Smart System.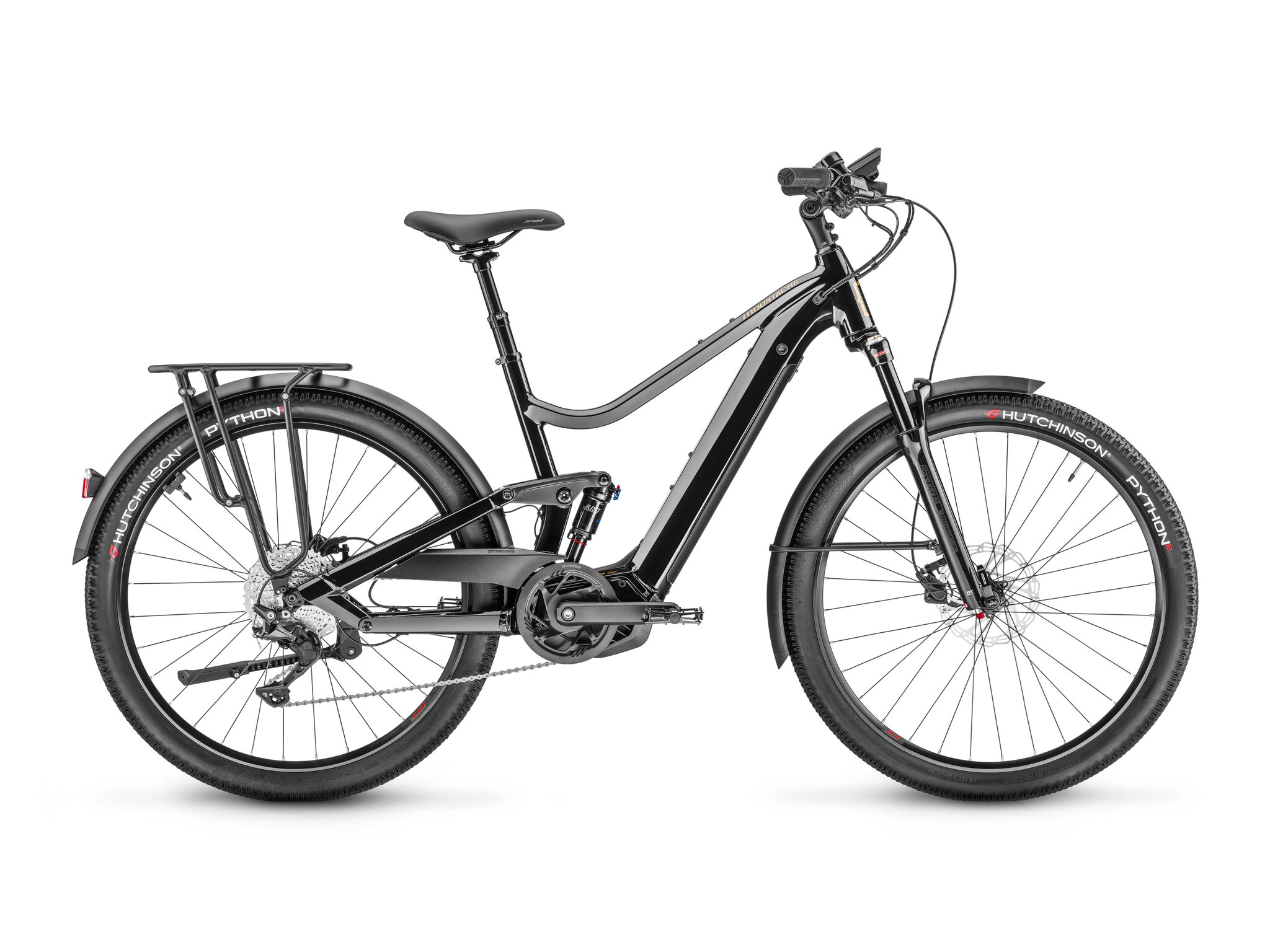 The Moustache Samedi 27 Xroad FS 6 has been unearthed as the best-in-class hybrid electric bike from the Xroad family for 2023, combining the very best features of an off road electric bike and urban electric bike all in one.
In keeping with the previous Xroad FS 7, the now gloss-black coloured flagship model still has a 625Wh battery, but is capable of being an electric full suspension mountain bike with a dropper-seat post and its own rear air shock technology in the form of the Magic Grip Control 100.
However, the all new Smart System comprises of customisable assistance levels and torque modes, courtesy of the eBike Flow App. An LED remote and Kiox 300 head unit offer a wealth of useful features including GPS navigation and smartphone unlocking/locking.
The Samedi 27 Xroad FS 6 is pointing the way towards the digital future of electric bikes, as riders can gain easy over-the-air updates allowing for the easy transmission of software changes, including an all new integrated alarm system from Bosch.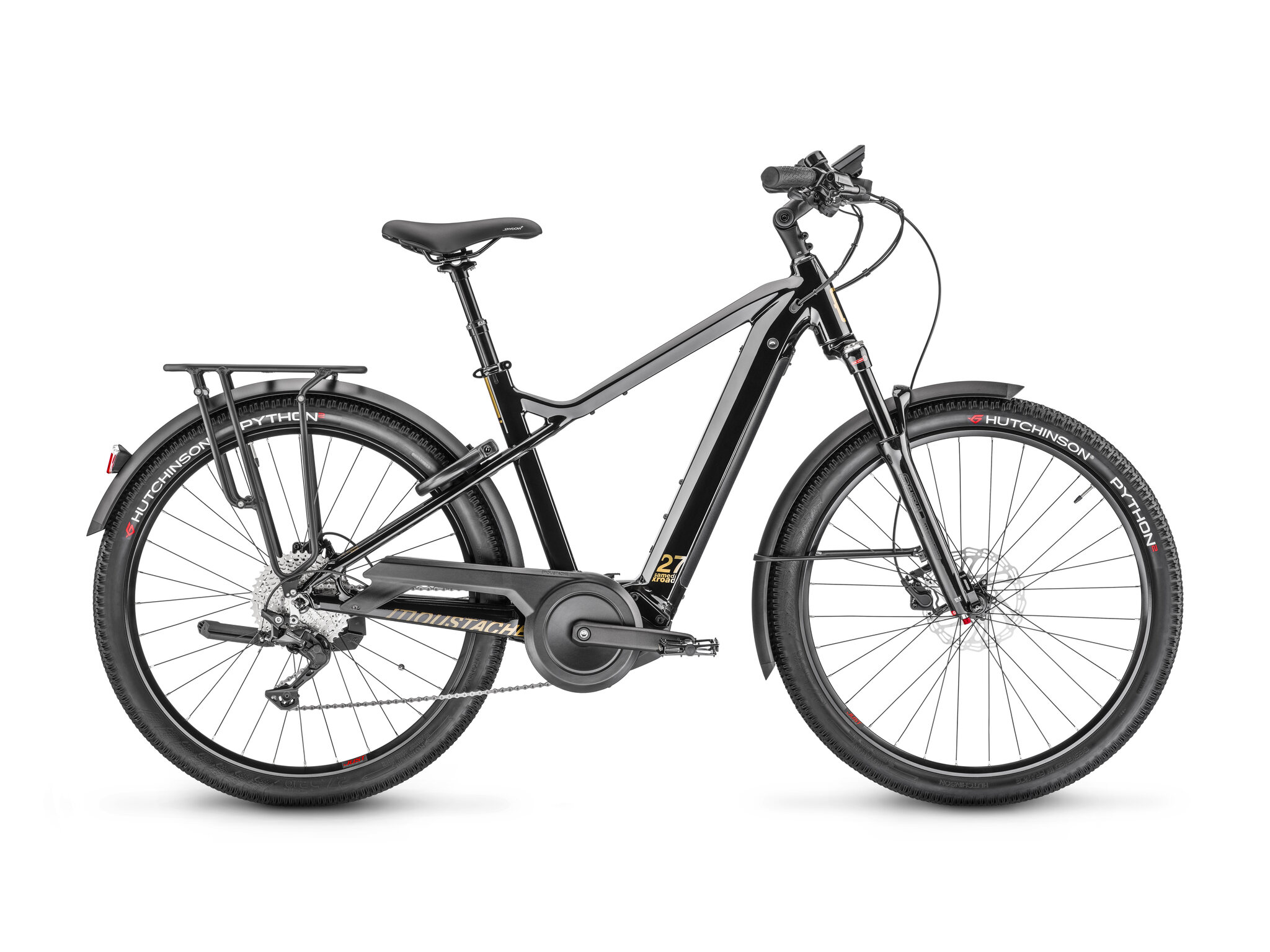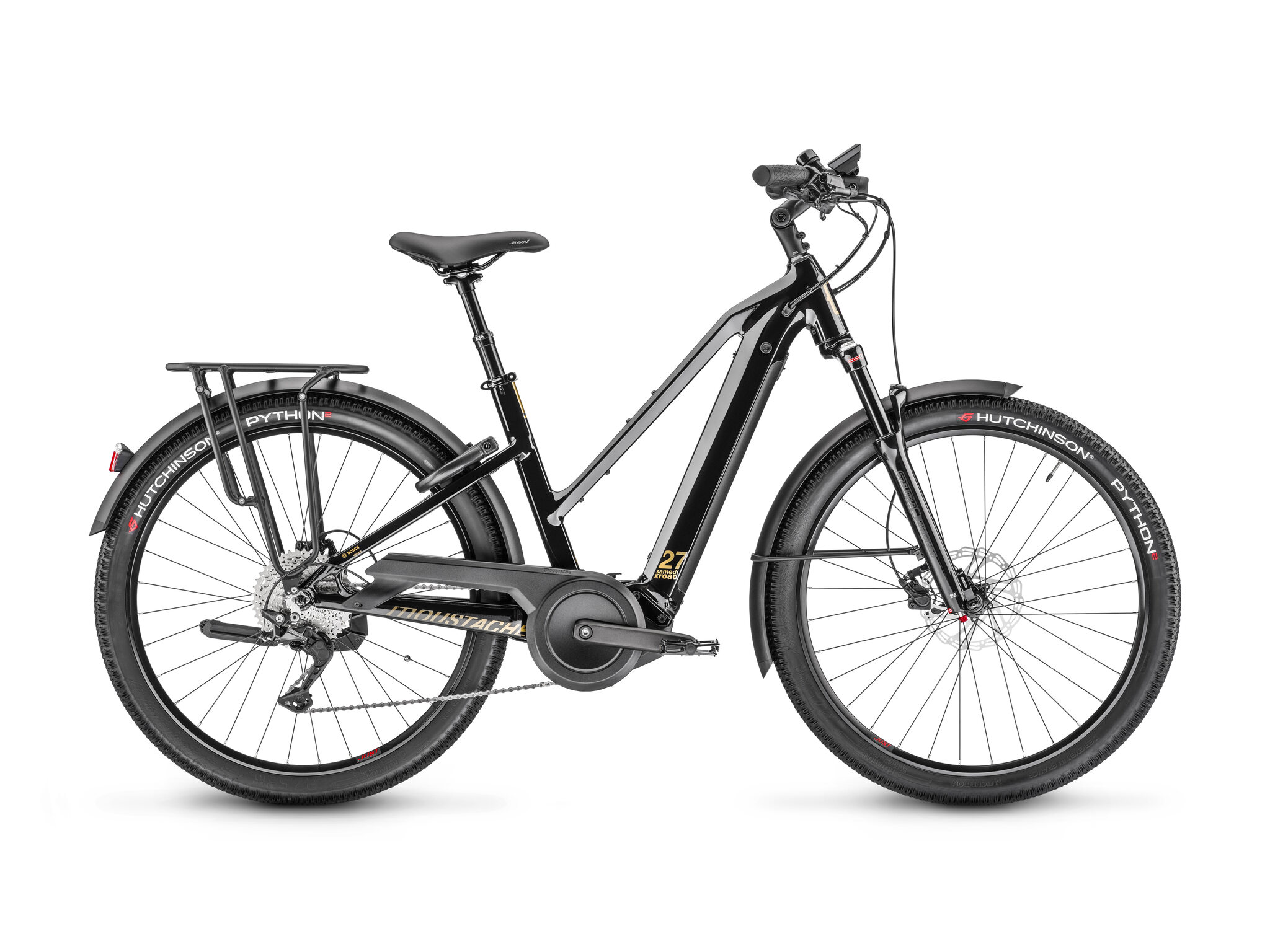 The Samedi 27 Xroad 6 and Samedi 27 Xroad 6 Open have the same features for 2023, but without the rear-shock. The Samedi 27 Xroad 6 Open has a semi-step through frame, owing to the ever-powerful Bosch Performance Line CX motor, with 340% pedal assistance and 85Nm of torque, ensuring that the frame is as rigid as possible.
This powerful and tough full-suspension eBike can handle a multitude of terrains. Moustache state riding the Xroad FS 3 will feel like a flying carpet passing over obstacles without any difficulty, and based on previous year Xroad FS' - we concur!
New for 2023 is the Bosch Smart System which includes the Performance CX Motor, Kiox 300 on-board comupter and 500Wh battery.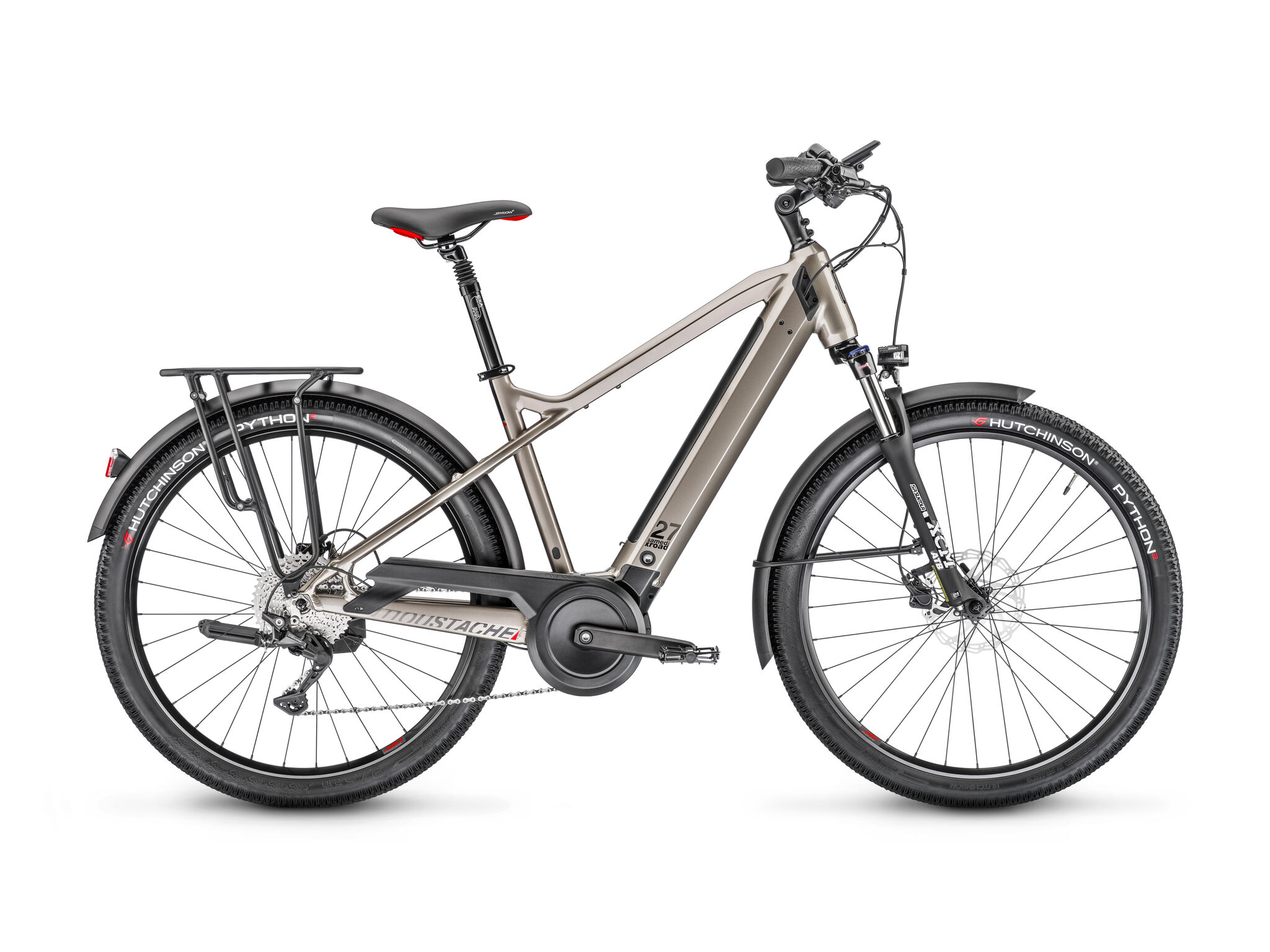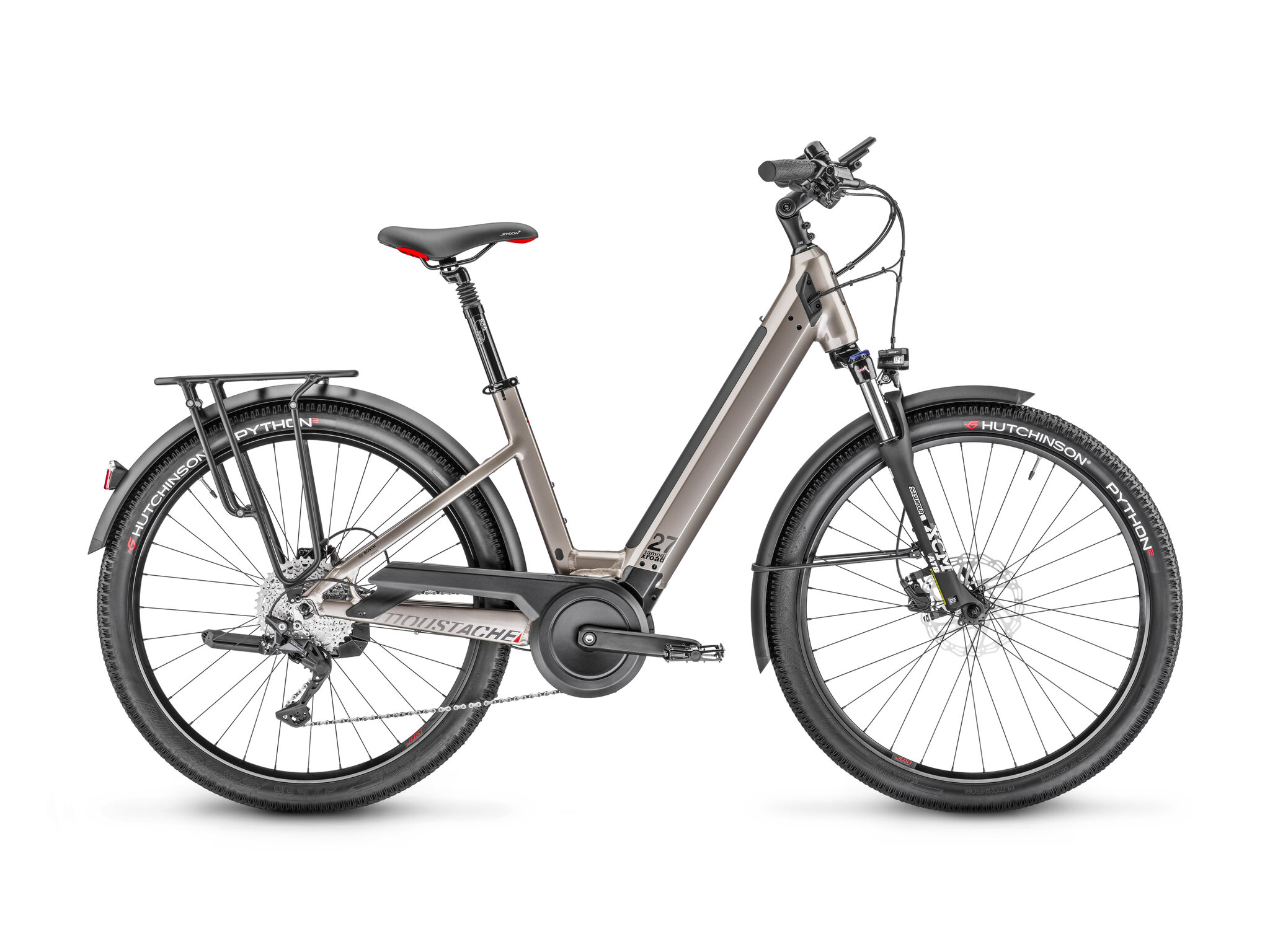 Arguably the bike that we're most excited to see this year from the Moustache Xroad range.
With a gloss titanium finish, this mid-range hybrid electric bike has the perfect balance of supreme power, functionality, range and comfort, all at a competitive price for a Bosch powered electric bike.
The all new Performance Line Smart System motor packs more of a punch than its predecessor, with 15% more torque and 40% more pedal assistance, at 75Nm and 340% respectively, adding more va va vroom to your journeys.
As ever, and as is the same with all of the Xroad series, the Xroad 3 comes equipped with accessories including a luggage rack that's compatible with QL3 and MIK fixations, as well as powerful front and rear lights.
The Moustache Xroad 3 still comes in and open frame, should you wish to have easier access on and off the bike.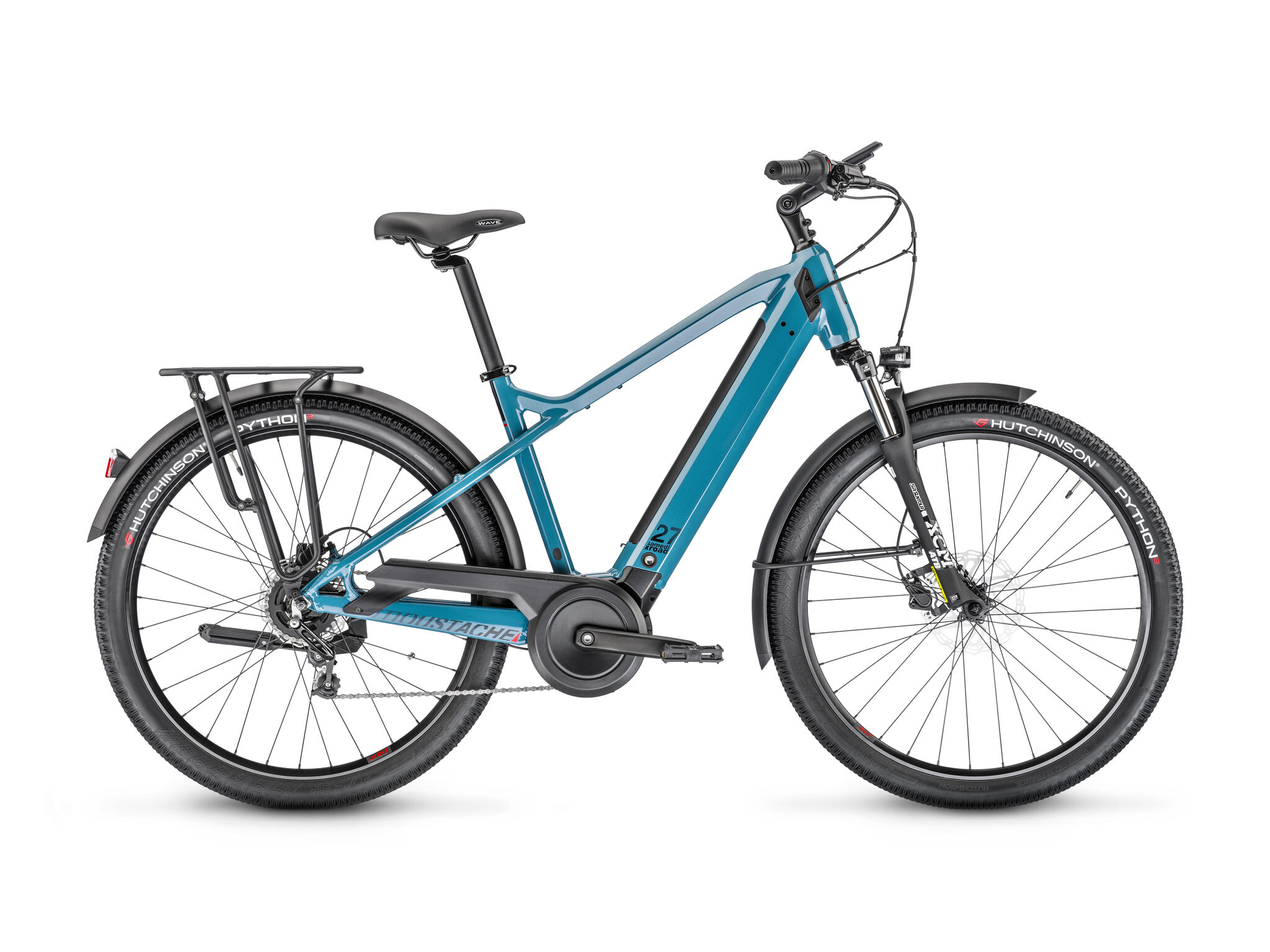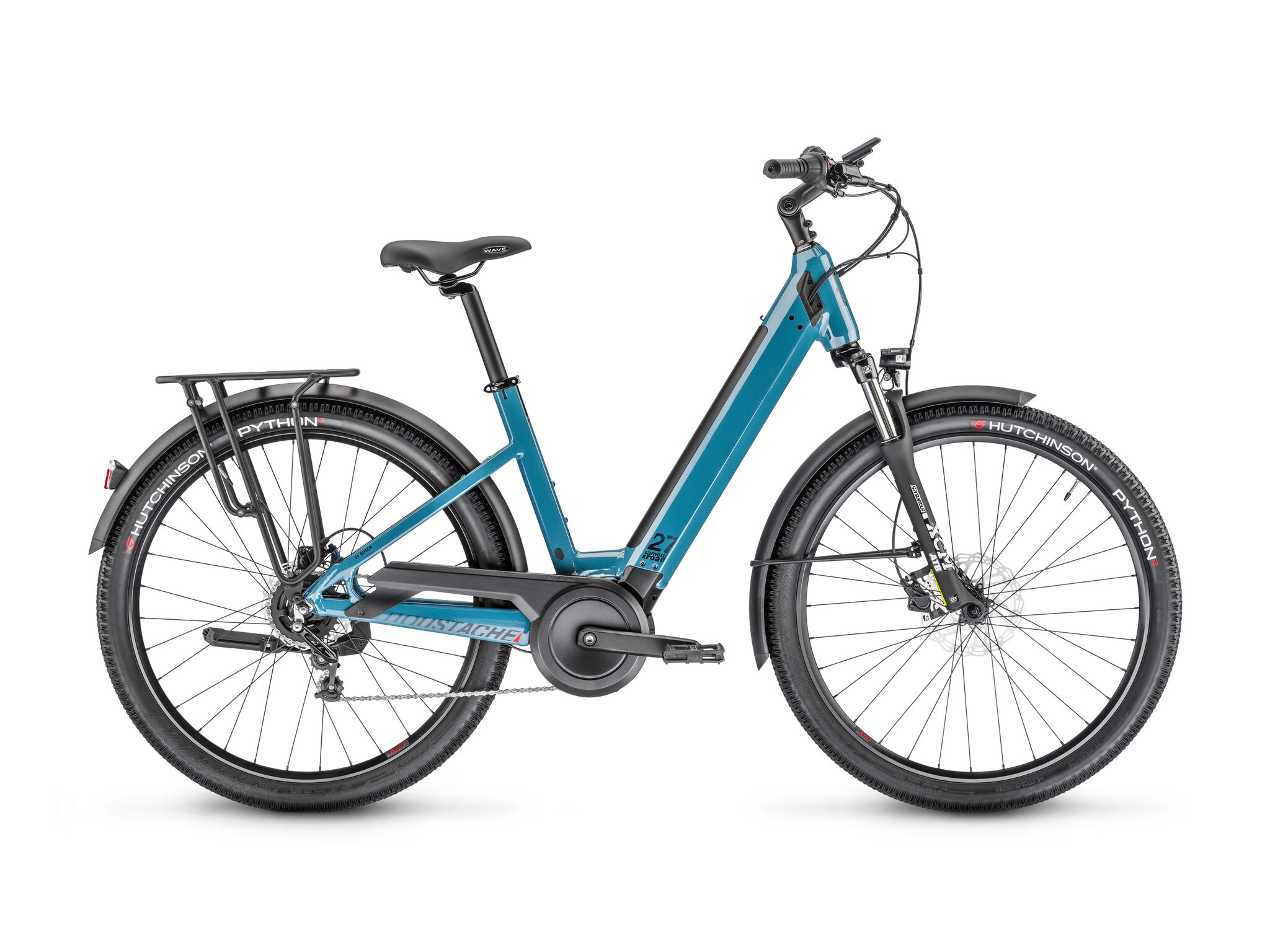 Moustache's best selling electric bike model in 2022, the Samedi 27 Xroad 2, has had a revamp for 2023, with the all new Bosch Smart System technology. Whether you're tackling the morning commute, doing the shopping, or off for weekend rides in the forest, the Xroad 2 is perfect for getting into hybrid electric bikes.
In line with the Xroad 3 above, the all new Performance Line Smart System packs more of a punch than its predecessor, with 15% more torque and 40% more pedal assistance.
Coupled with a beautiful petrol blue gloss finish, the Samedi 27 Xroad 2 is a chameleon who knows how to blend in anywhere and comes in an open frame.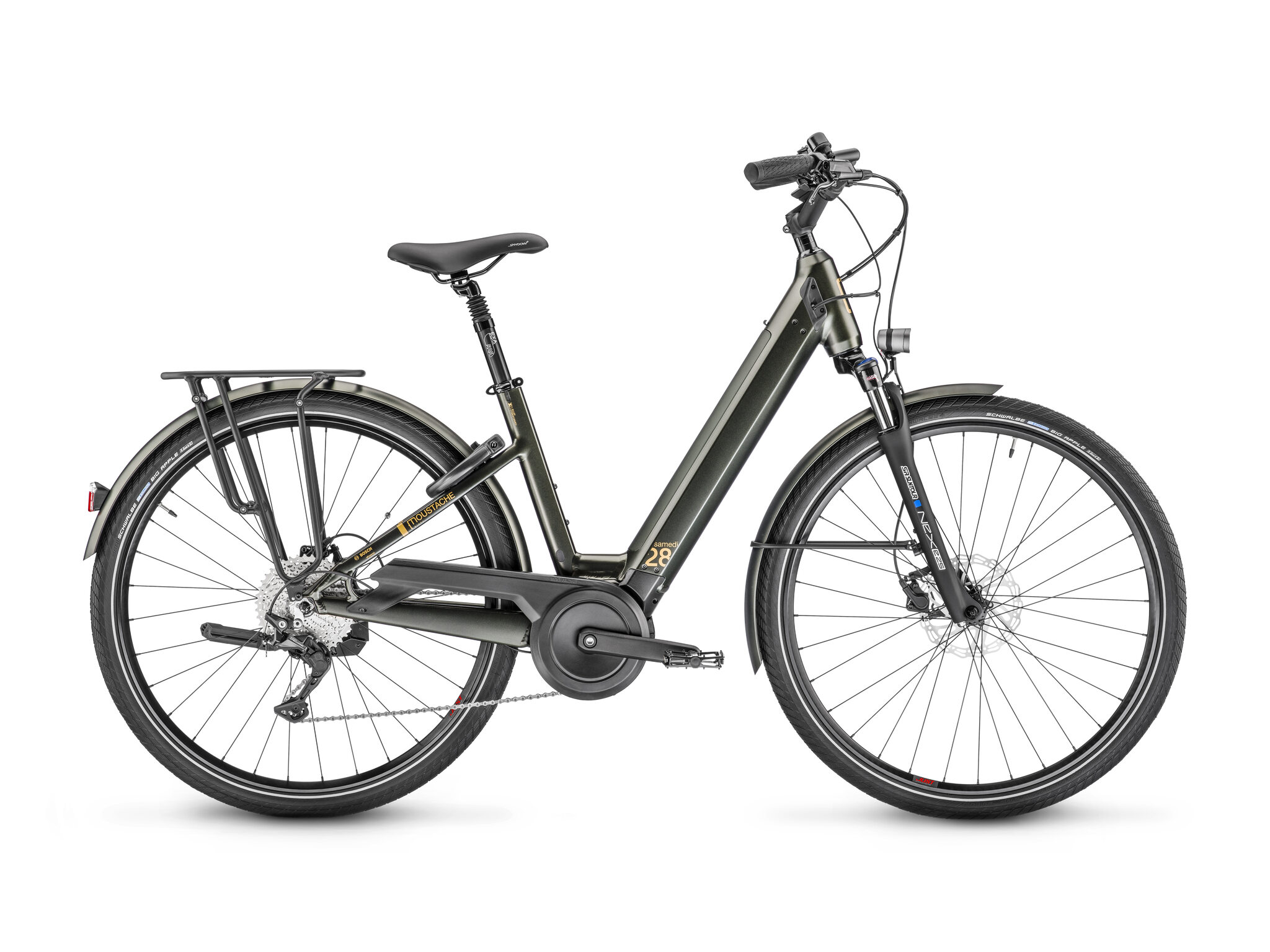 Much like those timeless pieces in your wardrobe, the Lundi is both the ideal womens electric bike or mens electric bike that has all the traits that make it a modern classic and truly original. The Lundi is famed for being Moustache's first ever bike created, with its distinct look, practical handling and, not least, the unmistakable Moustache handlebar, the Lundi is the VW Beetle of Moustache and still going strong 12 years later.
The highest specification Lundi for 2023 sees a seismic shift from the previous model, with an all new 625Wh PowerTube battery, integrated discreetly into the downtube.
This, again, you've guessed it, is combined with the all new Bosch Smart System, and a Performance Line motor that offers that much needed 75Nm of torque, and 340% pedal assistance.
The Samedi 28.7 can boast the same new Smart System as its cousin, the Lundi 27.5, with the best-in-class trekking electric bike from Moustache coming into its 10th year of existence. With the switch to the Smart System comes a new head unit, in this case the Kiox 300, which replaces the Nyon.
Other notable updates
As well as there being better availability of the all new Trail and Game series, which we wrote about on its release back in July 2022 year, the Smart System will also be integrated into the Moustache Fat bike range, , OFF and Wide range. You can find out more about the models below by clicking here:
These bikes are due to start arriving in February 2023, however we still have stock of 2022 models at attractive price points, which you can view HERE.