The New Gocycle Connect App
Gocycle have just released an updated version of their application Gocycle connect V4.0 for all generation 2 & 3 Gocycles. Great new featuring include a new interface, ride related information and a car comparison.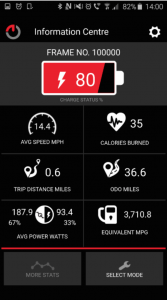 You can now establish custom speeds and profiles which suit your style of cycling all of which can be done on the mode and motor control screens. From the new settings menu, you can now convert miles into kilometres as well as looking at details of wattage and average speed . An edit tool has been installed to permit users to rename custom profiles and you can even name your Gocycle! A structure improvement shall also facilitate Gocycle's future content enrichment and software development and they have kept the facitiliy to upload log files required for remote diagnostics and servicing.
So go to your play store or itunes and download this great upgrade today.