Top 5 Most Advanced EBikes
Coboc One EcyclePrice: £2899
Range: 80KM
Motor Wattage: 250W
Weight: 13.5KG
Charge Time: 2-hour
Concept: no
Mobile Assistance: no
This EBike is different to the rest as it has kept a slick road bike appearance whilst having a next generation electric motor implanted into its core to intensify its power and performance. The Coboc is manufactured to be functional and of the highest standards of design being light, agile delivering interaction between rider and bicycle. The bike is hand crafted in Germany and is essentially controlled by a chip lodged in the electric system which is able to sense torque and general motor maintenance this is previously unseen. Such a compact integration enables the bike to weigh in at a very light 13.5KG.
Ford prototype MoDe
Speed: 15mph
Motor Wattage: 200-watt
Foldable: yes
Collision Sensor: yes
Concept: yes
Mobile Assistance: MoDe application
The ford MoDe EBike is a cleverly adapted vehicle which combines much of ford's automobile engineering with that of an electric bike. For example the collision sensor which is very little advertised in the bike world will be able to alert riders of unseen dangers through emitting a vibration designed too spread through the frame. The bikes adaptation system shall enable riders to cover harsh varying terrain with much more ease than a non adapted bike. Ford have seemingly taken a safety orientated step into the EBike world having installed a second significant safety feature this being an LED lighting headlights and LED lighting taillights to increase the visibility of the bike at night in particular.
Go Cycle G3
Price: £3299
Speed: 25km/h
Range: 80KM
Motor Wattage: 250-watt
Weight: 16.3KG
Foldable: Yes
Charge Time: 7 hours
Concept: no
Mobile Assistance: GoCycleConnect application
The 2016 G3 GoCycle is a mechanical masterpiece. The G2-G3 transition was very eventful seeing the range increase to 55 miles from 40, wheel locking improvements such as the instalment of a patented hexlock system upgraded from a single click lock. A DRL (daytime running light) has been installed making the bike significantly more visible to other road users during the day and night. The system adds another touch of style to the bike and dash board at night in particular. Another improvement put in place is the development of a GoCycleConnect application, the application allows users to acquire fuel and calory saving information as well as displaying the weather and change all settings.
Audi E bike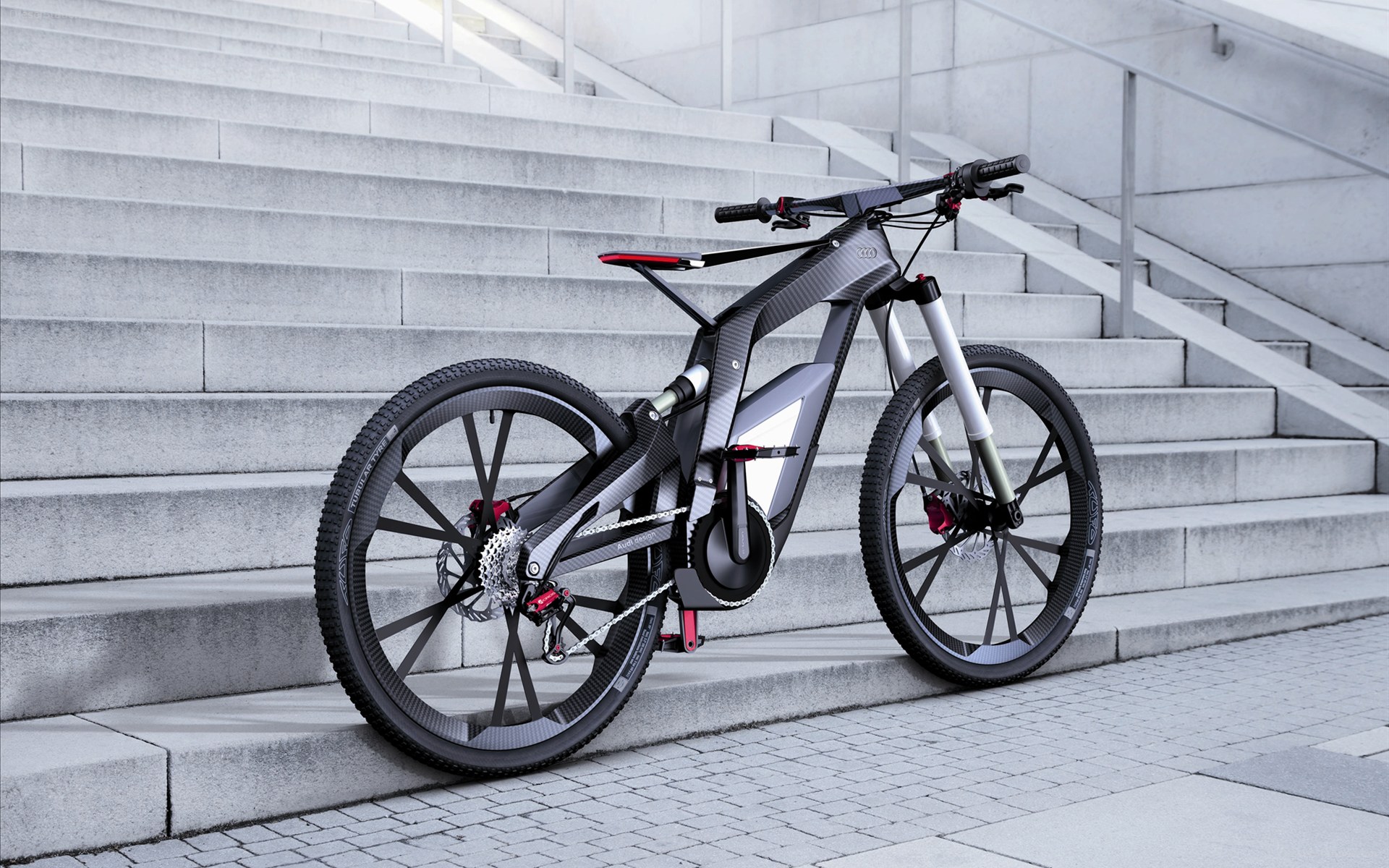 Price: £15000
Weight: 46 pounds
Drive System: Harmony
Suspension: full
Concept: yes
Mobile Assistance: Yes (Android only)
Following Audi's purchase of Ducati valued at $1.2 billion, Audi has spent money on the design of bikes, targeting the development of EBikes and the general two-wheel market. This can be seen in the Audi EBike very clearly with the level of attention paid to detail and the slick carbon fiber frame. The general concept of the bike is looking into the future the bike being equipped with cutting edge technology and constructed with only the finest of materials. The Audi EBike can be compared to the most minimal amount of bikes in the world as can its hefty price tag. The combination of various top engineers and intriguing alarm systems and integrated LED lights can only leave cycle fanatics to further speculate over other unknown features and whether this bike will ever come into production.
Audi Blacktrail
Price: £80000
Speed: 30 mph
Range: 120-150mile
Weight: 40 pounds
Suspension: optional
Concept: no
Mobile Assistance: no
The Audi Blacktrail is one of a kind with an astronomical price tag of $80,000 (making it the most expensive retail EBike ever) With 667 models built the creation is classified as a limited edition, 41 have reportedly been sold in the United States. The blacktrail is purely composed of carbon fiber in order to produce the lightest and most maneuverable structure possible whilst keeping its performance level as high as possible. I shall let you judge whether its abnormal abilities can justify its $80,000 price tag.