Commuter eBike riding: The Fully Charged Picks
As often preached, eBikes are arguably the most efficient, enjoyable and clean way to travel around the city. Here at Fully Charged, we have an eBike for all, from the eMTBs, to folding electric bikes. But certainly our most popular are urban commuter eBikes. For those bored of playing sardines on the tube, or taking
As often preached, eBikes are arguably the most efficient, enjoyable and clean way to travel around the city. Here at Fully Charged, we have an eBike for all, from the eMTBs, to folding electric bikes. But certainly our most popular are urban commuter eBikes. For those bored of playing sardines on the tube, or taking hours to travel everywhere on busses, a commuter eBike is the cure to your woes. Built for comfort and style – sweat, journey boredom and arriving late will be a thing of the past!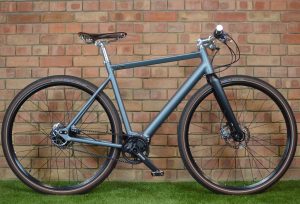 Desiknio Pinion Classic
One of the sleekest eBikes ever now has a geared relative! This Spanish made single speed lookalike will have the London cycle couriers baffled as to why you are cruising past them! Be this on the flat or while travelling up-hill.
Built into the crank of this urban eBike is the Pinion gearbox. Out of the box with six speeds this system creates an excellent commuting eBike. Pulling away is a dream in gear one. While the EBM M1 hub motor ensures cars are kept at an arms distance.
While trevelling on this extremely stylish commuter eBike, changing through the gears is a dream. The Pinion system not only maintains the sleek aesthetic of this urban eBike, it is also incredibly durable. The oil will need to be changed every couple of thousand miles or so. While the whole unit has an expected lifespan of near on forty thousand miles!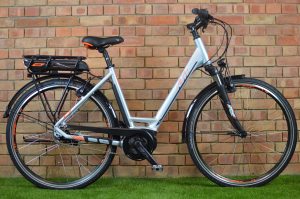 Our second commuter eBike pick takes its place on the opposite side of the spectrum to the Desiknio. Built with ease of use and a comfortable riding position in mind. The KTM Macina Classic 8's step through frame and upright riding position makes this eBike a comfortable urban cruiser.
Powered by a Bosch Active Line motor and a 400Wh battery, the Macina Classic 8 is incredibly well equipped for an eBike in its price range! If you are using this eBike for day-to-day riding around the city, Bosch's entry level motor will provide more than enough pulling power. Ensuring a smooth push off from the lights.
If you are looking to commute or just carry out daily activities on an eBike, the Classic 8 comes out of the box with the accessories you need, from mudguards to pannier racks. The Classic 8 will get you comfortably round the city!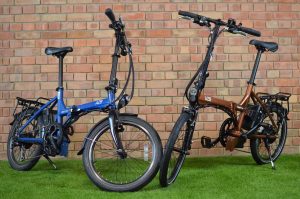 Our urban eBike pick list wouldn't be complete without the inclusion of an electric folding bike. Incredibly suitable for city living, this eBike can be folded down to fit in your cupboard, or any space available in your city flat.
Assisting you up to 15.5mph, the Kuo+'s hub motor will travel up to 25 miles on one charge! For those riding from job to job, or along the flat cycle superhighways dotted throughout the capital, this is an ideal commuter eBike. This model is one of the few with a thumb throttle. Powering you up to 6mph and really showing its worth when pulling away!
The A2B Kuo+ is one of our most popular eBikes. The features it comes with do not reflect the entry level cost. Straight out of the box with mudguards, lights and a pannier rack. There are few extras you'll need to purchase on top!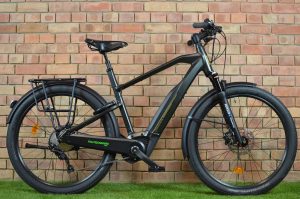 Moustache Friday 27 LTD
Our next urban eBike comes in the form of a Moustache Friday 27 LTD. With only 100 produced, you wont see this supreme machine out on the roads every day…
The standard top spec features have been equipped on to this commuter eBike. From Bosch's Performance CX motor and 500Wh battery to Shimano 11 speed gearing.
Solidifying this in the upper echelons of commuter riding is the quick park system. A simple click of a lever will allow you to turn the bars 90 degrees when parking your eBike. For those parking in busy docks or narrow corridors, this system can save space and prevent damage to exposed parts of your Friday LTD.
Not forgetting the beautiful paint job, fantastic riding position and the free Ortleib pannier it comes with. If you're lucky enough to get your hands on a 27 LTD, you'll be riding to work with a grin on your face!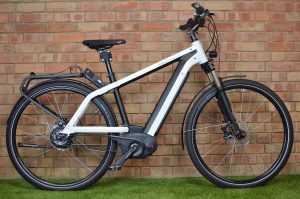 For those looking to commute in the utmost style, the Riese and Muller New Charger is a serious commuter eBike! If the 'car door test' applied through to the world of eBikes, the New Charger would be in the upper category. Sat with Rolls Royce and the rest.
Exquisite build quality and ride feel are noticeable on this eBike, from the smooth riding experience to the welding and attention spent on the frame design.
Utilising Bosch's top of the range Performance CX motor with a 500Wh PowerTube battery built into the downtube of the bike, Riese and Muller has built this eBike for all eventualities!
This Riese and Muller eBike comes with a little bit of a wait from most other retailers however we have physical stock. (At time of publishing)
As with all the eBikes in our urban eBike picks, test rides are available from our Bermondsey Street showroom! Pop in or give the team a call on 0207 111 0977.