Lithium Cycles Super 73: Coming Soon
It's unlikely the Instagram generation ever thought there would be an eBike built with them in mind. Stereotypes of old people riding their e-assisted bikes with cumbersome batteries and questionable frames. Then Lithium Cycles and the Super 73 turned up! Across the last few months, social media has been bustling with talk, influencers, Will Smith
It's unlikely the Instagram generation ever thought there would be an eBike built with them in mind. Stereotypes of old people riding their e-assisted bikes with cumbersome batteries and questionable frames. Then Lithium Cycles and the Super 73 turned up!
Across the last few months, social media has been bustling with talk, influencers, Will Smith memes and sponsored posts all relating back to this very cool looking eBike! Probably explaining the amount of enquiries we are getting about the Super 73s.
The rugged look of the SG series gives the impression of a 1970s motor-bike, while still qualifying as a fully road legal eBike. Drawing inspiration from the southen Californian vibe – think surfing, skateboarding and sunshine… Lithium Cycles has made an eBike built for not only the fun of the adventure, but day-to-day riding as well.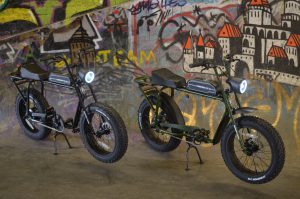 The Super 73 will be coming to the UK in two different models; the SG and SG1. Both are powered by a 250W hub motor and feature the same front light and LCD display. Whether you decide on the SG or SG1, you'll certainly have onlookers double taking as you ride past!
You may now be wondering what the extra £500 gets you from the SG to the SG1. The first point of difference is the battery. Those riding the SG will see up to 30 miles on a charge. Whereas those with the SG1 will keep the Californian spirit burning for an extra 10 miles. Thanks to the upgraded 696Wh battery pack.
Second off is the braking system. On the SG you'll be stopping via the power of mechanical alloy disc brakes. Featured on the SG1 are hydraulic disc brakes. Thirdly the SG1 features front and rear fenders, keeping you clean and mud free, no matter the conditions!
From the 'influencers' involved, to the way Lithium Cycles has marketed and positioned the Super 73 range, this eBike is continuing to make waves in the industry. Built on style and on-trend aesthetic. This eBike has the potential to draw a huge amount of attention to e-assisted bikes from a demographic otherwise less likely to join the revolution!
Fully Charged are currently taking pre-orders for Super 73 SG and SG1s. We have a very popular limited first batch. If you have questions or would like to book a test ride, contact the team now!