Ladies Cycling - How eBikes can help increase participation
Cycling was once a sign of liberation for women, but the latest figures suggest the gender gap in the sport is at a high. About 50% fewer women than men cycle twice a week or more, according to a report by Sustrains, and when it comes to cycling in cities, the number drops again.  So
Cycling was once a sign of liberation for women, but the latest figures suggest the gender gap in the sport is at a high. About 50% fewer women than men cycle twice a week or more, according to a report by Sustrains, and when it comes to cycling in cities, the number drops again.  So why are figures showing a gender divide in cycling, and what can riding eBikes do to inspire interest and action?
In London women make up 27% of cycle journeys compared to 55% in Copenhagen and Amsterdam. Although London has vastly improved its cycle network in the last decade, there remains a fear of cycling.
Sexism and Safety
Two commonly cited reasons for women avoiding the benefits of riding a bicycle, firstly, is derogatory comments from other traffic users. Tackling sexist attitudes among male users would be a first step to increase participation, says Leigh Campbell, who leads all-women cycling rides. "Sometimes, when I've been out cycling on my own, I've had male drivers shout at me as they're overtaking," said the 45-year-old British Cycling Breeze Champion. What some men see as harmless fun can be confidence-draining and unnerving.
Secondly, safety and fear of cycling. There is no doubt that an increase in cycle paths and improved road conditions will encourage more women (& men) to participate in cycling.
Headlines in the UK media tend to focus on the casualties caused by cycling, when in fact they are at the lowest levels for some time, even with more cyclists on the road. This clearly doesn't do wonders for participation levels, whereas if the focus was on the positive impact cycling has on your health, on the environment and on the economy, participation levels might well increase.
eBike Assist
The growth in range, reliability and technology advances of e-bikes are opening new avenues to the sport of cycling. Those who are put off by arriving at work hot and sweaty, or those who have longer commutes and hills could be more attracted to cycling as a form of transport and commuting vehicle. We are seeing many women at Fully Charged say they end up using their eBike far more than first anticipated, out of enjoyment and practicality!
Safety on eBikes is also greater than a standard bicycle. The ability to quickly accelerate when joining traffic greatly reduces the chance of collisions and improves traffic flow. On many eBikes, the riding position is upright (there's a reduced need for aerodynamics when you have a motor). This makes the rider more aware of their surroundings and enables them to be more alert and anticipate traffic.
In 2018, we are seeing electric bike manufacturers create more ladies' specific eBikes than ever before.
So, what are the differences in a ladies eBike? Generally speaking, they have a refined geometry with narrower handlebars, a lower step-over, shorter stem and shorter top tube.
In fact, many of the bikes are billed as unisex, due to many Men enjoying a more upright, comfortable riding position.
Here we take a look at what the top brands in the eBike world have delivered for 2018.
2018 eBikes
Riese and Muller New Charger Mixte Nuvinci 2018 – £3779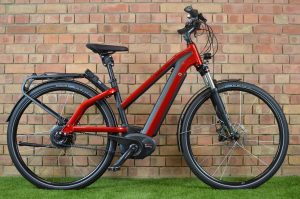 KTM Macina Classic 8 A4 2018 – £2195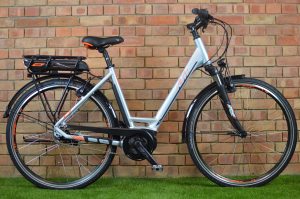 Gocycle GS – £2499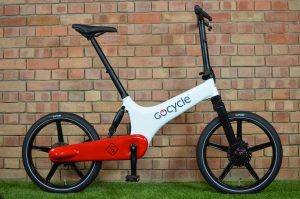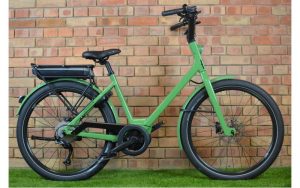 Positively many UK consumers see the benefits that cycling brings to both the individual and the environment. So, if there are continued improvements in road standards this will increase the safety of the sport, which should in turn help drive participation. More needs to be done to promote cycling as a safe activity rather than the media concentrating on fatalities.
"I think it's extremely positive, as it keeps you fit and healthy. It's a lot cheaper as you don't have to pay for transport, parking, insurance etc. But also it's much better for the environment as it doesn't produce harmful chemicals."
Fully Charged are passionate that the e-bike revolution is the future of urban transport. See our website for more information, or call us if you would like to talk through the best option for you.