Cruise into the Future with Super73's newest models
Super73 have upped their game this summer with the new RX and S2.
Ahead of their release this July, we thought we'd take a more in depth look at the new Super73-RX and S2, your very own portable amusement parks.
As all those who've ridden a 73 before can attest, it is an eBike like no other. It's simple, the Super Squad have made life a ride. This is a machine that has its own identity and own cult following, with the likes of Will Smith, Cara Delivigne, Post Malone and Justin Beiber all spotted cruising around their neighbourhoods with one.
Over the past few years the electric motorcycle hailing from Southern California has made headways in the industry. Whilst they may look like old-school motorbikes, they are indeed bicycles and are street legal, requiring neither a license nor insurance.
We're stoked to announce that in only one months time, Super73's newest range will be at Fully Charged, meaning it's time for you to socially distance in style. They are available to pre-order with us now and are already flying off our websites shelves. Be it sand, snow, mud or the city streets, these two models coming to the shop are most definitely ones to rock out to… here's our sneak preview to get you pumped ahead of the big release.
THE RX
You can pre-order the new RX from Fully Charged here
We've nick-named the RX the Dennis Rodman of eBikes, a rough and ready bike tailor made for the city explorer and the trial adventurer. With its unique, retro look and full suspension, the RX is the perfect weapon to tear up both on the hills or on the streets. Designed from the ground up, the RX introduces the most powerful and technologically advanced SUPER73 drive system, featuring multi-class ride modes. It's programmed with a class-2 riding mode, allowing for throttle operation (only to be used on private property) and pedal assist riding up to 15mph with top speeds of 28mph. This enables you as the owner to legally pedal-assist on public roads and paths without a licence, insurance or registration.
Components
Say aloha to your new alloy
Lift me up, buttercup! The RX's aircraft-grade 6065/7071 aluminium alloy frame is lighter and more rigid than steel. Aluminum is also rust and corrosion resistant for worry free riding in all conditions.
Suspension on tap
The front forks are incredibly popular for the SG series already in stock but a full-suspension model had to be coming! This premium RX model sports an upgraded, inverted coil spring fork with air assist, and a rear piggyback coilover mono-shock. It's suspension system includes preload, compression and rebound adjustments, giving you that 360 degree love and attention you need no matter what your level.
The BIG 'BDGR'
The BDGR is the first of its kind, blending both motorcycle and bicycle tyre construction methods to meet the demands of these revolutionary vehicles. These big knobbly tyres, at a whopping 5" wide, are the widest and most aggressive 20" all-terrain fat tyre available, making you feel like a character out of Mad-Max: Fury Road.
The tread pattern has been designed to improve traction, reduce road noise, and increase stability for both on-road and light duty off-road riding. The rotor is also 28% thicker than standard bicycle brake rotors, improving brake response, heat dispersion and heat tolerance, resulting in longer brake life.
Disk Jockin' your Brakes
Effective braking is essential for any mock-motorcycle riding, so the stopping power of the RX is the next difference that puts it on its pedestal from previous models. The difference is in those pistons. Providing twice the brake-pad contact with the rotor is the four piston system on the RX, compared to the dual piston on other models. The RX still has Tektro hydraulic disc brakes, similar to previous models.
A Big Battery and Marvellous Motor
New for 2020 is the SUPER73's state of the art 960wh lithium ion battery which is sophisticatedly mounted on the top tube in classic 73 style. It is the largest battery in its category, providing an estimated 40+ miles of range at 20mph under throttle only and an estimated 75+ miles of range using the pedal-assist mode. It is driven by a powerful internally geared brushless DC hub motor capable of outputting up to 2000 watts of peak power.
Take whatever seat you like
Sit that ass down, gurl! Well you now don't need to worry about that tush, courtesy of a stylish and comfortable cafe racer style seat which comes as standard on the R and RX Models. With a 32" seat height, adjustable handlebars, and a 21st. weight limit rating, the Super73-R is designed to comfortably accommodate riders between 5'3 - 6'8.
There's an app for that
The RX also features a new handlebar display and Super 73's all new connected electronics suite with an LCB screen showing all the essentials; remaining battery capacity, odometer, speed and distance travelled.
This is perfect to link up to their new iOS and Android mobile app! The app is capable of receiving over-the-air updates to ensure the bikes have the latest firmware, having the most up-to-date functionality. It can also enable features such as remote anti-theft security, geolocation tracking and crash detection, not to mention the usual bluetooth synchronisation to get the tunes going! Users can also set their destination in the app and benefit from turn by turn directions.
Comes with all the trimmings
The RX model also comes with some nice accessories. There's premium LED front lighting, an integrated brake light, a horn and a full mudguard-set. It also provides 11-36 teeth on the cassette, which comes in very handy for riders in hilly areas and couples nicely with their four modes of pedal assist: Eco, Tour, Sport and Super.
You can either get these beauties in a 'Rhino Grey' or in 'Carmine Red'. Pre-order your RX now with us!
THE S2
There's claims that the team at Super73 would have released this mode sooner, but they were too busy riding them! Once again The Super73-S2 is a high performance street-legal electric motorbike that doesn't require a license of a registration.
This bike is designed more for the urban adventurer, an agile, sport-cruiser style bike that makes you feel like Buzz Lightyear as you drive around the city and its suburbs. It's both beautifully minimalist and radically over-the-top in equal measure. It's design gives an earthy, rustic, vintage look whilst its over-the-top experience matches that of any gig and festival set. It's a raw, powerful, elementary ride that'll put a permanent smile across your face, all year round.
Aluminium is in this Millenium
Similar to the RX and designed for the urban adventurer, gone is the steel frame of the S1 to the aluminum alloy 6065/7071 aircraft-grade frame. This is a lighter, more rigid and corrosion-resistant frame.
Front up your suspension
Front suspension comes standard on the Super73-S2 and includes adjustable preload compression, and rebounding damping, helping to properly assist your bike in its proper position after a bump or other irregularity.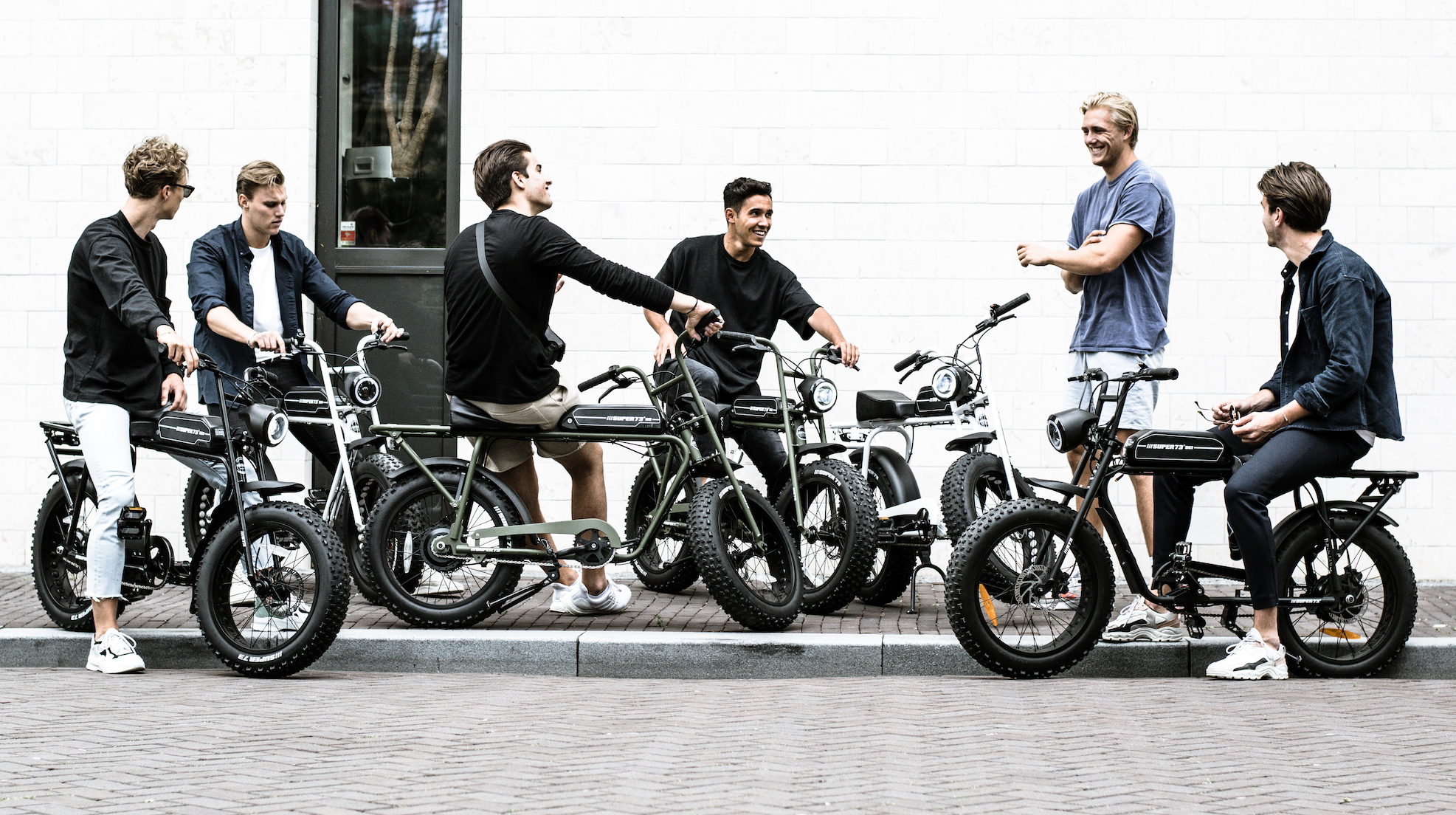 Battery + motor
The S2 is powered by a brushless, internally geared DC hub motor that puts out 1200 watts of peak power. Pair that with a battery that is 960wh, the largest of any bike in its class! The S2 gives you a range of up to 40 miles on throttle only (not to be used on public roads or paths) in class two mode.. In eco mode with pedal assist you get up to 75 miles of range… incredible!
Room for a little one?!
Budge up, brother! There's a standard 2-up extended seat, allowing for two passengers to sit on the S2. With a 31" seat height, adjustable handlebars and a 23 st. weight limit, this is designed to comfortably accommodate riders who are between 5'1 and 6'8.
The Notorious BGDR
These tyres are the stand out performers of both this and the RX. They are 60% road based and 40% off road based. If you're doing any light trail riding then they are the perfect partners, looking tough but riding nice. There's big treads on it so if you're off road, you're going to get good traction and if you're on the road it commands control and keeps you feeling safe and secure.
Why bother when you have the app?!
The S2 also features the new Super73 app. Not only does it come with the features written above with the RX, but it also connects you with other Super73 owners so you can plot your journey together!
All the bells and whistles
The S2 also comes with a triple LED 12 volt halo headlight, making it the brightest light available on any Super73 with 630 lumens, as well as having an integrated brake light. It has internal cable routing, minimising clutter, and helping to conceal and protect wiring within the frame. It also comes with a front-tyre mudguard set. You can either get these beauties in 'Galaxy Black', 'Apollo White', or 'Hudson Blue'.
There's a reason the S-series has always been our most popular model due to its easy functionality… but the new S2 looks like it's gone the extra mile to give the end-customer everlasting joy. The S2 shows that Super73 are no longer just the cool new kid on the block, but perhaps that the young pup on the market is really starting to find its own feet in the engineering class of the eBike world.
These two models will be coming to Fully Charged in July, perfect for taking them on one of your first expeditions since lockdown. We're already seeing a great number being pre-ordered and can tell that their popularity is going to be off the richter scale. Here at Fully Charged we are an official SUPER73 Authorized Dealer and have demo models in store as well as the current SG and SG1 models in stock. Either get pre-ordering A$AP or make sure you come in for a test drive soon!
What-with the advent of these two new models, we are starting to see that the Super73's are as much of an important tool in one's life as they are toys. Most certainly better days are on the horizon with this new Super73 range.
Henry