Welcome to Bouygeus!
We would like to welcome Bouygues UK to the Fully Charged eBikes for Business family. Bouygues Group, operational in over 80 countries, is a global leader in energy, digital and industrial transformation.
With over 14,000 employees worldwide that provide engineering and service capabilities, Bouygues has put forward a climate strategy in response to the current emergency threatening our future. Part of their answer? You guessed it, cargo bikes! Bouygues have started their electrifying journey with a fleet of 15 cargo bikes, ranging from the front-boxed Urban Arrow Cargo L, to Riese & Müller Load 75's to the rear-loading and enigmatic Tern GSD.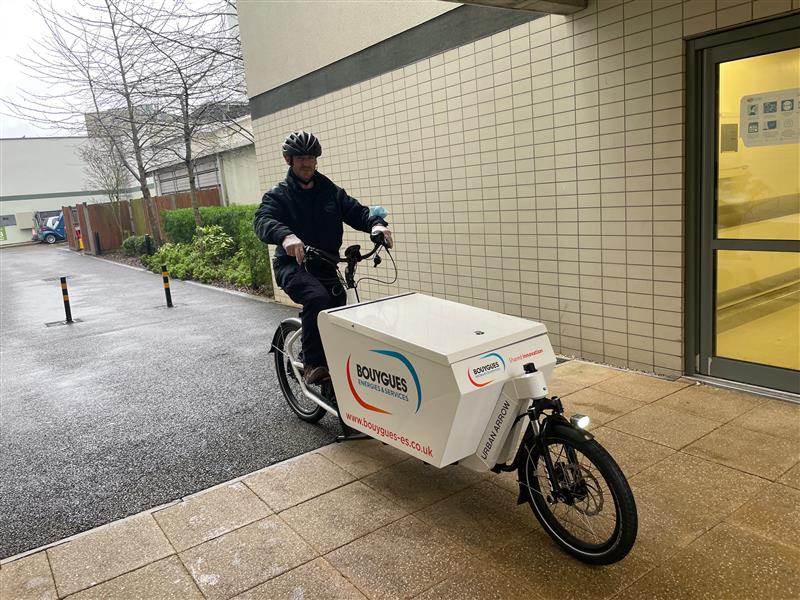 Two thirds of their fleet are currently operational within healthcare sites, at North Middlesex Hospital in Tottenham, Broomfield Hospital in Chelmsford and Southmead Hospital in Bristol. The other cargo bikes are operational at higher education sites, at Cambridge University and King's College London, as well as with Westminster City Council in the centre of the capital.
The cargo bikes are being used in a wealth of different ways, with the primary intention to dramatically increase the air-quality surrounding the institutions they support. In just this short period since their arrival, North Middlesex Hospital has removed its diesel van, as the Urban Arrow is a more emission-friendly tool for the managing of waste and the transportation of cement within its grounds and gardens.
With Bouygues Construction being operational in the UK for over 20 years, and with the recent acquisition of Equans, who operate within regeneration and energy services, we expect the company to be at the forefront of green mobility for its sector, and pave the way for other conglomerates to follow suit.
We're looking forward to seeing your cargo bikes make a real difference to your working environments, Bouygues and thank you for choosing Fully Charged.