Best Electric Mountain Bikes 2018 - The Fully Charged Picks
We take a look at the phenomenon sweeping the trails across Europe – Electric Mountain Bikes. After extensive research and a visit to Eurobike, our team hand-picked what we feel to be the best electric mountain bikes in 2018 using Yamaha, Shimano and Bosch eBike systems. Following the visit to Eurobike, it was clear that
We take a look at the phenomenon sweeping the trails across Europe – Electric Mountain Bikes. After extensive research and a visit to Eurobike, our team hand-picked what we feel to be the best electric mountain bikes in 2018 using Yamaha, Shimano and Bosch eBike systems.
Following the visit to Eurobike, it was clear that almost all the top manufacturers are now adopting the Bosch eBike system. The new eMTB mode has been a revelation, cleverly varying between 'Tour' mode and 'Turbo' mode based on pedal pressure and gradient. A maximum torque of up to 75Nm strengthens the motor and the rider's personal contribution between 120% and 300%.
Yamaha powered eBike's provide a high torque option. The PW-X peaks at a very punchy 90Nm. Beneficial when you're on steep inclines, you gain a powerful push with the first turn of the cranks. There's no single eMTB mode, but a quick flick through different power modes with your left thumb and you can select from 4 levels of assistance.
Shimano offers a lighter and smaller option. This allows manufacturers to play around optimizing the geometry of the bike. Although small, there's no compromise with levels of torque, outputting 70Nm. A neat display shows ride information and you can connect your smartphone via Bluetooth for added features. Shimano have upped their game in massively for 2018 after teething issues in recent years.
Read on for our selection of the best electric mountain bikes on the market for 2018. If you wish to test-ride any of the Bosch CX, Yamaha PW-X or Shimano E8000 eBike systems. We have them all available at our experience centre in Peaslake.
Haibike sDuro HardSeven 1.0 2018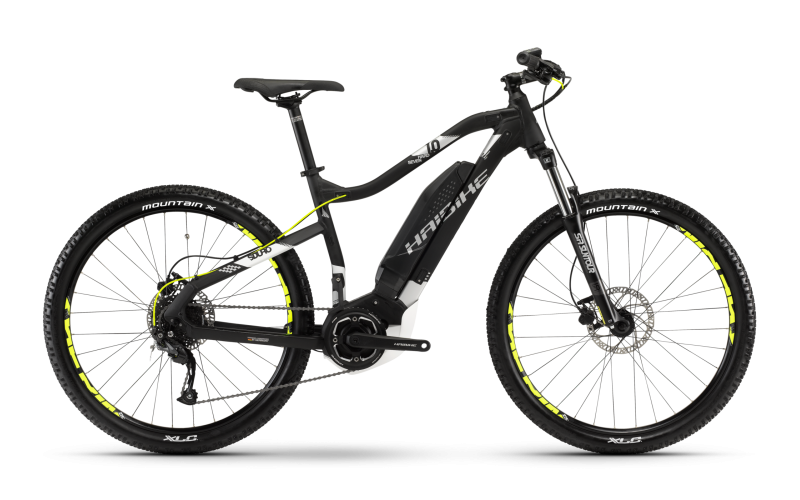 The entry level Haibike is a great way to get into the sport of eMountain biking, without breaking the bank. It's not optimised for tough terrains or vigorous riding, it's more suited to leisurely rides in the countryside.
The HardSeven features a Shimano Altus 9 speed gearing system with a range of 11-36t. A Suntour Coil Sprung fork has an adjustable dampener to keep things comfortable. Tektro hydraulic disc brakes ensure good stopping power, and the rims are Rodi Black alloy double wall rims that are both light and strong.
Motor: Yamaha PW-System, 250W, 70Nm
Battery: Yamaha Li-Ion 400Wh
Weight: 22.4kg
Price: £1,999.00
Moustache Samedi 27 Trail 8 2018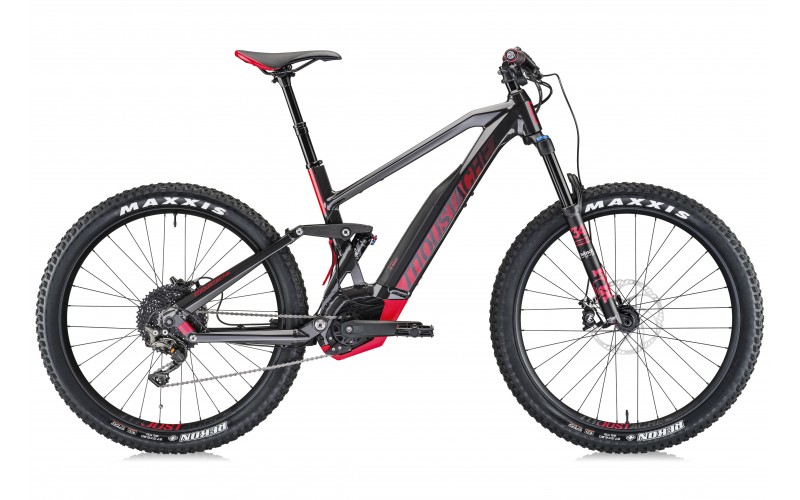 Behold the benchmark for eMTB's. The new mountain bike range from Moustache has the exclusive Hidden Power technology for an incredibly balanced geometry.
Featuring Grip control Ultimate rear shock 200×51 with hard anodized coating for low friction, dynamic rebound control for insane grip on the rear wheel and perfectly balanced stability. 140mm travel. FOX 34 fork, E-Bike specific, black aluminium stanchions, GRIP hydraulic cartridge with external lock-out and rebound. Maxxis Recon 27.5+ tyres provide maximum efficiency whatever the terrain.
Motor: Bosch Performance CX, 250W, 75Nm
Battery: Bosch 500Wh Integrated
Weight: 22,9kg
Price: £4,799.00
KTM Macina Kapoho 271 2018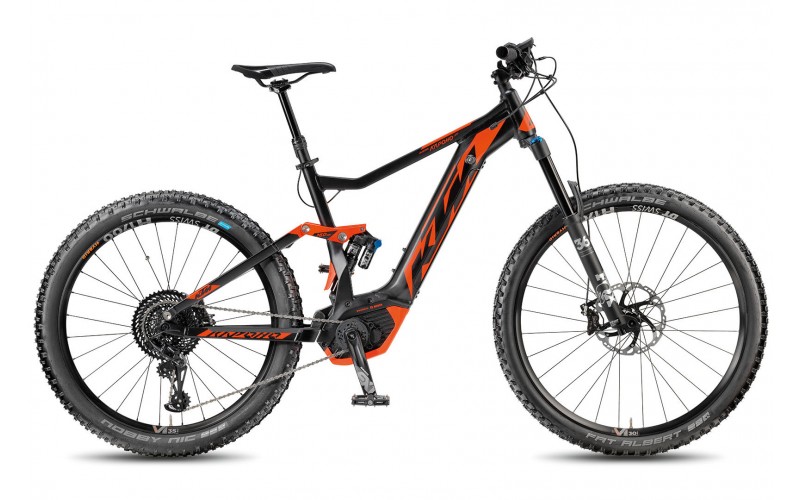 A balanced wheel set combination coupled with extremely high spec make the Kapoho one of the finest electric mountain bikes on the market. The fully integrated Bosch PowerTube and gravity casted frame means the bike looks as awesome as it performs.
KTM have transfered their superior knowledge in motocross designs into electric bikes. DiMMiX wheels (Dimensions Mix) technology is what KTM headquarters call it and combines the benefits of riding a precise, stable 29″ front wheel with a traction-rich manoeuvrable 27.5″ PLUS wheel at the back -> the perfect mix of both worlds. The external diameter of the 2 wheels is the same so cornering feel is not effected.
Motor: Bosch Performance CX, 250W, 75Nm torque
Battery: Bosch 500Wh, PowerTube
Weight: 24,3kg
Price: £5,095.00
Haibike xDuro All Mountain 7.0 2018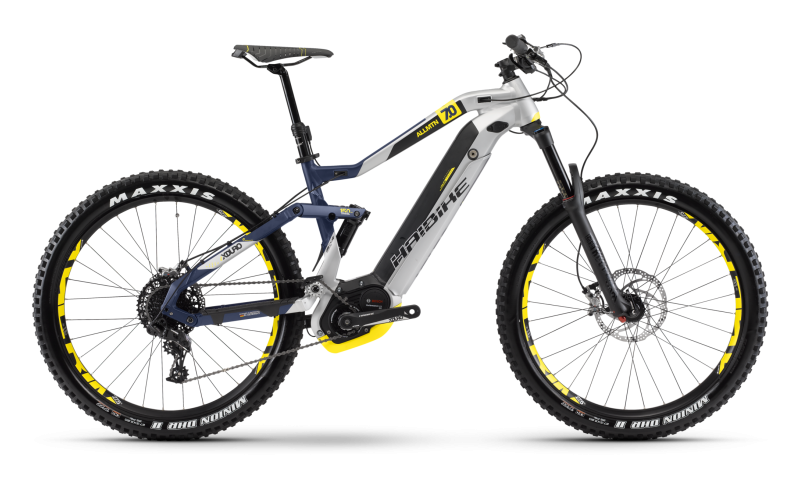 eMTB giant Haibike have equipped the All Mountain 7.0 with Sram NX trigger switch shifters, 150mm rockshox suspension and TRG G-Spec, which is great for extreme riders.
Haibike's new modular rail system has room for a second battery. All new for 2018 is a Sprocket Equalizing System (SES), engineered to prevent the effect of chain drop. Plus size tyres empower the rider with supreme balance. If you're riding on tricky terrains, and steep gradients the xDuro All Mountain 7.0 is a serious contender for top spot.
Motor: Bosch Performance CX, 250W, 75Nm
Battery: Bosch 500Wh, PowerTube
Weight: 25,2kg
Price: £4,399.00
DiamondBack Ranger 3.0 2018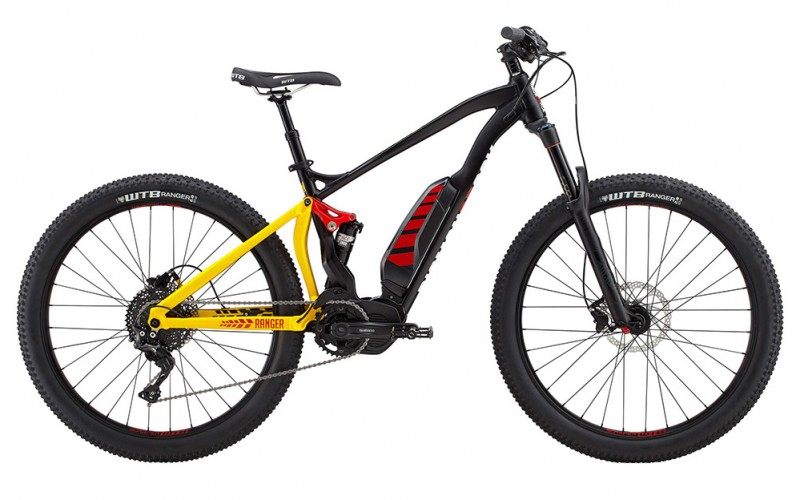 DiamondBack are a brand who've been producing high quality mountain bikes for years. The Shimano groupset of E8000 motor, Di2 XT 11-speed gearing and Shimano M-315 hydraulic disc brakes ensure maximum efficiency and performance.
Up front the RockShox Yari forks give 140mm of travel, not only adding to the ride comfort, but also allowing the rider to hit jumps or drops they might previously have avoided.
Motor: Shimano E8000, 250W, 70Nm
Battery: Shimano 500Wh, Li-Ion
Weight: Not Available
Price: £4,250.00
Riese & Muller Delite GX Rohloff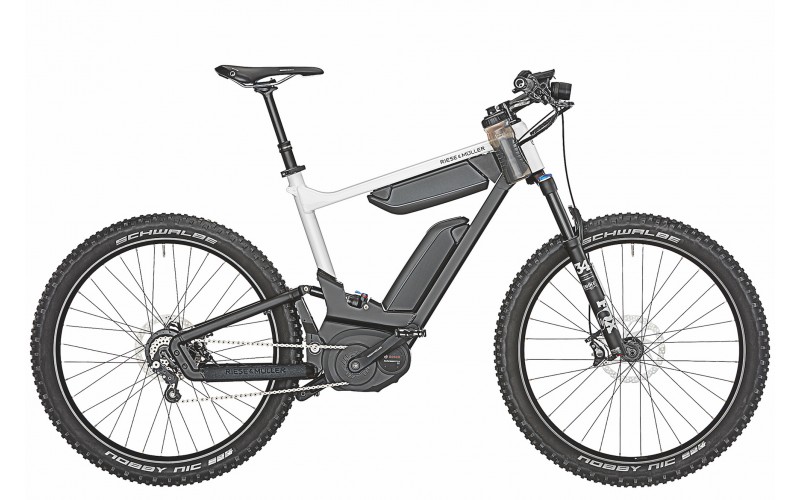 This Delite GX Mountain Rohloff is as ultimate as it comes. Control Technology from Riese & Muller maintains a deep relationship with the terrain. Perfect balance and superb grip are achieved thanks to the very best components from Fox.
Anyone who enjoys challenging the mountains or sporty rides through the countryside or city, the Delite GX Mountain Rohloff has the complete package. You can travel for up to 200 miles thanks to the dual 1000Wh batteries. But, the most impressive feature of all on this eBike, is the E-14 Rohloff gearing hub. The intelligent system rapidly changes through the gears with a push of a button. For more info, see here – E-14 Rohloff.
Motor: Bosch Performance CX, 250W, 75Nm
Battery: Dual 1000Wh Bosch Li-Ion
Weight: 24,9kg
Price: £6,119.00
If you want to test, view or have a chat about a bike you're interested in. Either comment below or give us a call on 0207 111 0977.
You can view all of the bikes in more detail on our site by clicking here