Gocycle G4, G4i & G4i+ Folding Electric Bikes | Key Features & Differences
New features, technical specifications, colour options and more on the acclaimed Gocycle G4, G4i and G4i+
Introducing the Gocycle G4, G4i and G4i+
Introducing the Gocycle G4, the latest milestone in Gocycle's legacy of innovation and excellence, setting a new benchmark in lightweight design and urban eBike innovation. You can read a short history of Gocycle written by Fully Charged's own Dan Parsons, founding employee of Karbon Kinetics, the company behind Gocycle.
We now have the pleasure of welcoming the latest addition to the Gocycle line-up, the Gocycle G4! The release of the new Gocycle G4 has furthered the company's mission to be the leading performance brand in the portable urban eBike category, with the G4 setting a new standard for lightweight design and innovation.
The three-model Generation Four family (G4, G4i and G4i+) are specified with a new G4drive™ electric motor, an all-new carbon fibre mid-frame, the integration of a carbon fibre front fork, a fully-integrated USB port for phone charging on the go, new high-performance MotoGP-inspired tyres and low energy bluetooth, for an improved Gocycle App connectivity. This is on top of its already award winning sub-10 second portable folding system, and widely acclaimed Cleandrive that has captured the hearts of urban riders and critics alike.
We couldn't be more excited for our riders here in London and across the U.K. to experience these masterfully engineered products. Let's take a deeper look at the G4: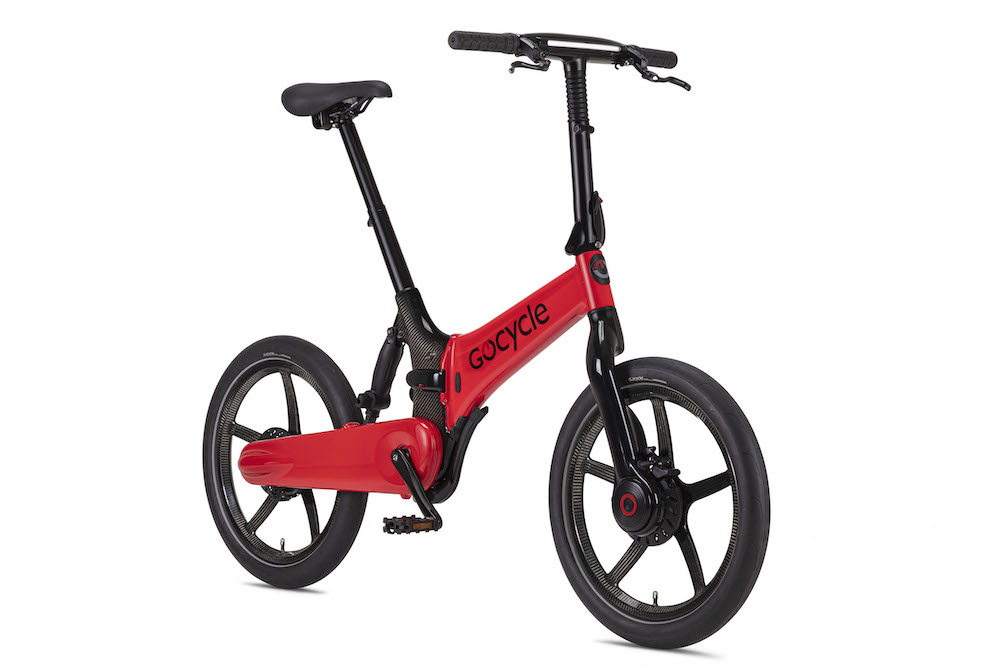 So what's new?
An all new G4drive™ electric motor
All Generation Four Gocycles are powered by the new G4drive™ motor. The new motor provides a smooth and quiet ride, while delivering more torque and more power than previous models, as well as a lower-speed start capability, all within the bikes industry-leading compact frame design.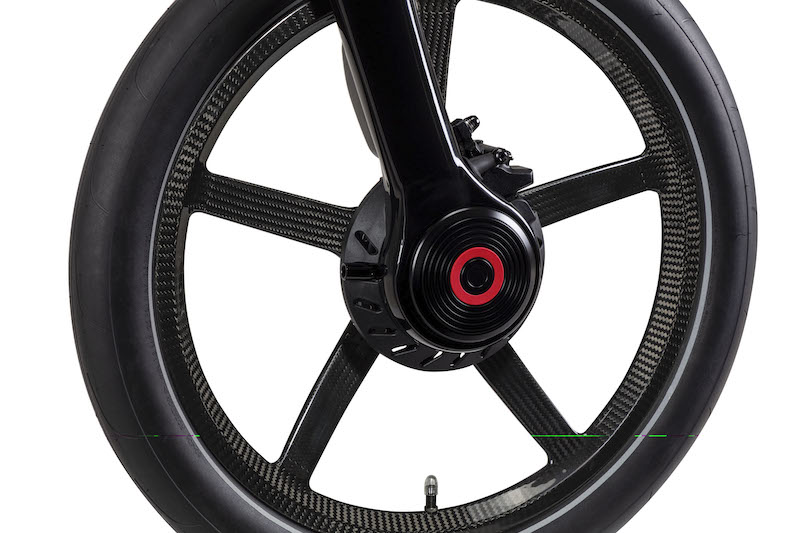 A new carbon-fibre midframe
Gocycle has gone one step further for all Generation 4 models, with a new, lighter and more precise carbon-fibre mid-frame. The all new midframe connects the hydroformed aluminium front frame and Gocycle's widely acclaimed Cleandrive.
Single-sided carbon fibre front fork
The all-new single-sided carbon fibre front fork houses the fully-integrated G4drive™ motor and cleverly links the chassis of the frame to the road. The integration of the front fork helps to reduce the stress put on the bike by the rider, as well as its overall weight. The fork also comes with improved comfort, whilst maintaining directional stiffness to make sure you glide around those corners!
Lighter than ever before
With this new carbon fibre front fork, and carbon fibre mid-frame, it is clear to see that Gocycle continue to listen to their riders in producing as lightweight a product as possible. The G4 and G4i comes in at just 16.6kg, whilst the G4i+, complete with carbon wheels, comes in at 16.3kg, making the range one of the lightest premium folding electric bikes on the market, and more than 1kg lighter than the previous GX (17.8kg). No stone has been left unturned in the G4's comprehensive weight-loss, with the disk rotors even coming in lighter than previous models!
Moto GP-inspired treaded tyres
It wouldn't be Gocycle without a touch of automotive racing class, be that F1 or MotoGP inspired! Gocycle's founder Richard Thorpe's previous history as one of McClaren's design engineers has always put the brand in an innovative league of its own. Its new lightweight tyre is infused with silica compound for superior grip and sure-footed handling. Its new wider design and increased air volume offers the rider a comfortable ride across urban surfaces.
Integrated USB Port on the Handlebar
In need to charge your phone on the train, at the office or even at the pub? Gocycle have introduced a clever little contraption for their new range, a discrete integrated USB port on the handlebar! This enables owners to charge their phone or other small devices from the bike's battery when it's not in use!
Other Key Features
What are the other stand out features relating to the new G4 range that we should all know about?
Comfortable Geometry
At Fully Charged we like to say that the Gocycle is a big bike in small bikes' clothing. One of the primary reasons behind its popularity is that it has the same touchpoints as a full size bicycle; that is the wheelbase, the saddle and the handlebar are the same distance from each other as a normal bike. The geometry and ergonomics is therefore far more in line with that of a regular bicycle, but in keeping with all the benefits that a compact folding electric bike can have for city riders.
Range
The G4i and G4i+ have 375Wh of battery, with the G4 having 300Wh. Whilst the two higher-specification models translates to roughly 25% more range than the entry level product, maxing out at 50 miles per charge, you can expect a range of up to 40 miles with the G4, depending on your level of assistance. This can be determined via the Gocycle Connect App, where you can even have the option of customising your own level of assistance! All models now come with Gocycle's new 4A 36V charger, and take from 3 - 3.5 hours for a full charge.
Folding Mechanisms
Those privy to the Gocycle GX and GXi of previous years will know all about the intuitive folding mechanism that makes it possible to stow and fold the G4 into a compact package in just 10 seconds! Once folded, the bike can be rolled along on its wheels, making it incredibly versatile for city use and easy to store in an urban or naval environment. This popular system is even more robust for 2021, with the introduction of a single titanium pin that keeps the fast-folding joint perfectly aligned.
Gocycle Cleandrive System
All models come with Gocycle's patented cleandrive system, which is completely enclosed and is lubricated pre-production, meaning that there's very little maintenance needed.
Rider-focused technologies
The G4i and G4i+ feature the brands bespoke F1 inspired rider cockpit display which has predictive electronic automatic gear shifting and an automotive-inspired Daytime Running Light that is built into the front of the handlebar, adding an additional safety element. The G4i models also have fully integrated cabling, whereas the cabling on the G4 is partly external, running into the frame. The G4 model has manual, cable shifting and a five point LED indicator displaying battery charge.
Updated Accessories
Gocycle is set to announce accessories that will become available in the coming weeks, including new G4 mudguards and an updated G4 rear pannier rack. The optional integrated riding lights are also now upgraded to Supernova, and operate by the all-new G4 controller which turns them on and off automatically when moving.
A Travel Case will also be launched. It is a similar design to the G2 style travel case, but much better balanced and easier to use.
More information on the accessories are set to follow, and be sure we'll be the first to let you know about them when they arrive.
Where to order, Price List and Further Detailed Specifications
Generation Four Gocycle Technical Specifications:
We are already taking pre-orders for the new Generation 4 models. Register your interest and stake your place in the queue to own one of these incredible machines now by getting in touch.
If you have any further questions you'd like to ask prior to purchase please get in touch with us via our customer communication channels. We are open to virtual appointments, eBike test rides or can be made available via our live chat services.
With several members of our team already having placed their pre-order, here at Fully Charged we wanted to make sure it's not just our customers that get the most out of this new range!
- -
Who are Gocycle?
Since the launch of its first generation back in 2009, Gocycle has made an indelible mark on the electric bike industry as the best compact folding eBike on the market, with a succession of generations bringing advancements and betterments on an already renowned, industry-leading and award-winning starting position. You can read a short history of Gocycle written by Fully Charged's own Dan Parsons, founding employee of Karbon Kinetics, the company behind Gocycle.
Richard Thorpe left his dream job at McLaren Cars to dedicate his life to building an eBike that should be elegant, desirable and a joy to live with and ride. Since then, Gocycle has introduced the first eBike with Daytime Running Lights, the only bike with quick-release side-mounted wheels, and to universal acclaim one of the cleanest, most compact and best looking fast-folding eBikes imaginable with the GX and GXi in 2019.
Gocycle started by re-thinking every element of the bicycle and designing a uniquely integrated machine. The company looks set to continue changing perceptions of what a bicycle can be and do and we could not be more excited to be stocking the G4 at Fully Charged.